Musikmesse
[Musikmesse] Schertler amps for electric models
See all Musikmesse 2014 news items »
Schertler will introduce at Musikmesse next week its first amps for electric bass and guitar, respectively the Bass Fidelity Series and Charlie.
Schertler is renowned for amplifying acoustic instruments but the brand had always let the electric market to others. Until now, with the debut of the Bass Fidelity Series and its three bass combos.
The B10, B12 and B15 host a Class A preamp and a proprietary Class D power amp, and tweeters have been installed in each combos.
Here a the first info about this series, with more to come next week in Frankfurt:
B10: 300W, 10" woofer and one 1" tweeter

B12: 400W, 12" woofer and two 1" tweeter

B15: 500W, 15" woofer and a 1" tweeter with a custom horn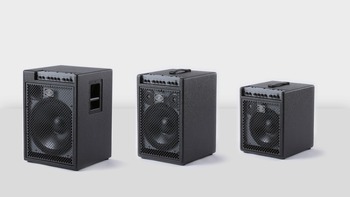 Along with the electric bass amps, Schertler will showcase Charlie at Musikmesse, its first amp designed specifically for electric jazz guitars. Charlie is a single channel amp delivering 208W and focuses on the mid range, which is critical for jazz players. A Class A preamp and a spring reverb are also included.
More info next week.
Viewers of this article also read...