Power Supply for ALL types of analogue consoles :
$400
Localization: Pelynt, (
United Kingdom)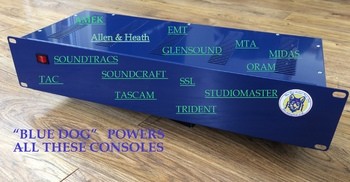 PLEASE NOTE : WE ARE NOW SELLING A BLUE DOG POWER SUPPLY in a 2u RACK VERSION for an
Blue Dog Power Supplies - Now celebrating 400 + FAULTLESS builds of these superb non linear power supplies from our workshop in Cornwall UK .
Heres a list of the many consoles we have built BLUE DOGS for :
Allen + heath
Amek
EMI
MS Audiotron (Dutch)
MTA
Glensound
SSL
Soundcraft
Soundtracs
Studiomaster
Oram
RAMSA
TAC
Tascam
Trident
So if you're still struggling along with a noisy ,scratchy glitch "popping" 30 year old original supply why not just try out a BRAND NEW BLUE DOG ?
You will be amazed at the life it will put back into your ANALOG mixes , like a new engine in your car : If you don't agree , or don't think its worth the investment then were happy to give a refund (less our postal costs )
Pleas see our Facebook Blue Dog Power Supplies for some excellent feedback from the last 4 years
PLEASE NOTE : ALL these consoles use DIFFERENT VOLTAGE RAILS and DIFFERENT CONNECTORS , so although I have listed the BLUE DOGS at a 295 GBP : prices will vary depending on your requirements . So please email me your SPECS because I might be able to sell it cheaper than 295 GBP ..
best Regards Tim from Blue Dog Power Supplies
Products related to this classified ad
soundracs soundcraft amek trident tac allen +heath oram
Options/Characteristics