Simmons Clap Trap Analog handclap synthesizer w/Humanizer function :
$1,000
Localization: Tulsa, Oklahoma (
United States)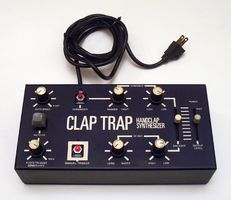 Here is a very sought after vintage 80s musical device: The Simmons Clap Trap with Humanizer function. It is the last of the analog versions of the Clap Traps before they went digital. It is an analog handclap synthesizer with controls that allows you to shape the handclap sound from a thin click to an almost drum slamming sound, and play them back on the unit. It also provides different trigger inputs in the back and the ability to alter the sensitivity of the trigger signal.

I had this unit service and it works just fine. There is some some paint wear on the sides and around the unit sporadically.

This particular Clap Trap is set up to work on regular 120V house current, despite the 240V 50Hz indicator on the back.

These units are becoming harder and harder to find, as indicated by the insane prices on the internet.

I am asking $1,000.
Options/Characteristics