Speaker emulators seem to be highly in demand right now, mainly as a solution to record yourself and play live, benefiting from the sound of a tube amp. There are obviously lots of software tools to do that, but hardware solutions are becoming more and more popular.
With this in mind, we selected 27 popular units currently available on the market and asked our French readers to pick out the best. Some of the units are only speaker emulators, while others provide additional features, like an attenuator or a D.I. However, we did deliberately exclude those which also include amp emulations.
Here are the results: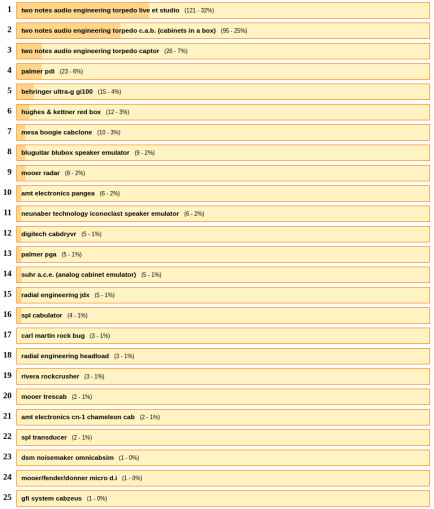 Our poll regarding the community's favorite hardware speaker simulator clearly confirm Two Notes' undisputed reign in this market segment! And actually, the French manufacturer dominated the podium with its products, which together accounted for 64% of the votes!
The first place went to the Torpedo Studio and Torpedo Live (32% of the votes). Expensive and aimed at the pro market, they both represent convolution-based digital solutions. They have a great reputation, which the poll confirms, and the number of musicians using them all over the world just keeps on growing.
The Torpedo C.A.B. landed the second position: 25% of the votes went to this simplified, pedal version of Two Notes' digital emulators. The gap with the third place is significant: the more recent Torpedo Captor, a true all-rounder featuring loadbox, D.I., analog and digital speaker simulation, and attenuator, only grabbed 7% of the votes.
Palmer is the first manufacturer to join Two Notes in the list with 6% of the votes thanks to its PDI D.I./speaker emulator. The products of this brand are very popular and used by lots of pros, like Joe Bonamassa who has his own signature series.
Finally, the next three are all pocket size! First of all was the Behringer Ultra-G GI100 D.I./speaker simulator (4%) with its unbeatable price tag (only 40€). Next up were two brands whose amps have a very good reputation: Hughes & Kettner and Mesa Boogie, with the Red Box (3%) and Cab Clone (3%), respectively.