Organize your AudioUnit plug-ins
Auganizer is a utility that allows you to manage and organize your AudioUnits plug-ins on Mac OS X.
Auganizer is a standalone software that scans the system and user folder on your Mac and list all your AU plug-ins. You will then be able to change the name of the brand, create sub-folders and order your plug-ins for clearer organization.
You can even display in the software the GUI of each plug-in.
Auganizer is available fo $34.99 and you can download a trial version at auganizer.com.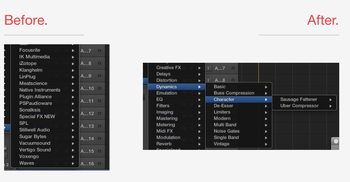 Viewers of this article also read...