NAMM
[NAMM] New Abstract Data Eurorack modules
See all NAMM Show 2015 news items »
Abstract Data will complete is Eurorack analog module series in 2015 with 6 models that will be introduced at NAMM.
Following the ADE-10, ADE-20, ADE-30 and ADE-31, Abstract Data will add this year:
ADE-32 Octocontroller with 8 simultaneous sync outputs, gates, LFOs, arps, pulse, random and pulse features as well as timing, quantize and offset options. Inputs for external Clock and Reset are also available.
ADE-40 Shaping VCO with sine, triangle and square waveforms, pitch, depth and width controls, frequency modulation and sync
ADE-50 with 3 linear VCAs, each with CV and signal inputs and one output on a 4 HP panel
ADE-51 VC AHDSR / AHD with a fast envelope generator, linear or exponential envelope curve, attack, sustain, decay, release, hold and envelope time controls, multiple CV inputs and two outputs
ADE-52 4:4 Mix/Attenuator with 4 volume knobs, 4 inputs and 4 outputs, Output 4 is also a Sum, on a 6 HP panel
ADE-53 Signal Utility with adjustable volume, gain and bias, reverse and one I/O on 4 HP
Pricing and availability of these new Eurorack modules will be communicated soon.You can discover the first ADE modules at www.abstractdata.biz.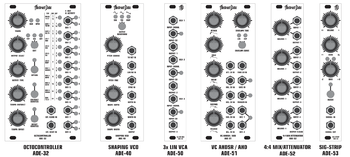 Viewers of this article also read...