< All tips & tutorials
INTRODUCE
The surround effect in Mp3 Player Morpher lets you use all the speakers of your multichannel audio system like 5.1 (or others) when listening to stereo or mono songs. It allows to control the subwoofer bandwidth and its volume independently from the rest of your speakers and to create your own environment for the output sound. In addition, you can quickly bring yourself to any point of your multichannel environment without moving.
Note: The surround effect works with stereo or mono files only – Thus it has no effect upon the audio files, having more than two channels.

In this tutorial, you will enable all the speakers of your multichannel audio system for playing stereo (or mono) songs and turn your room into an overcrowded concert hall and finally take the virtual seat at the first row.
STEPS
STEP 1: Play a stereo (or mono) audio file in Music Morpher
- Choose Morpher mode or Advanced Morpher mode (1) by clicking View >> Go to and then choose the correspondent button

- Click one of the buttons (2) to add songs to your playlist.

- Then click Play button to start the playback.
STEP 2: Turn the surround effect on
- Now click the Surround button (1) to open the Surround dialog box.

- Check Turn On/Off box (2) to activate the surround effects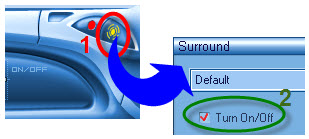 STEP 3: Select the type of your multichannel audio system
- Click the check-box of the "mode" group, which corresponds to the type of your multichannel audio system – in our case this is 5.1.

Now set the values of the controls as shown below.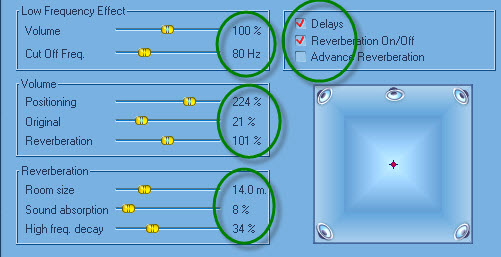 At the field, it shows your speakers arrangement.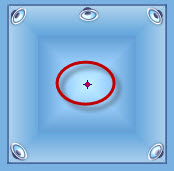 If the listener position is not at the center of your speaker system, you can move the cursor to make the balance. It will change the volume of each speakers to help you get the real sound and effect. Just stand at the listener position, look around your speaker arrangement and then finally, move the cursor to the place like the place you are standing in your speakers arrangement.
Souce: Audio4fun's tutorial
Did you find this tutorial helpful?
Be the first to post a comment about this tutorial