Smithson Martin unveils the Emulator Elite
Smithson Martin is now accepting pre-orders for its Emulator Elite, a high-end all-in-one DJ solution, available as a limited edition.
The Emulator Lite is a large hardshell in which you will find the Smithson Martin proprietary touch screen, an HDMI video projector, a MOTU 4Pre 24-bit audio interface, a Mac Mini i7 computer (2.6GHz, 8GB RAM and 1TB hard drive), as well as all the necessary cables. The XLR connectors are easily accessible so that you can plug the Emulator Lite to the sound system of the venue.
The Emulator Lite is based on the Emulator Pro software for OS X and you'll find on the Mac Mini pre-installed versions of Traktor Pro 2 and Ableton Live 9.
Smithson Martin will also add V-Moda M-100 headphones and a SubPac M1 bass system (see this news).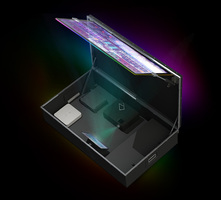 The Emulator Elite will be limited to 100 devices, and will start shipping in March, 2014. You can pre-order it now at smithsonmartin.com with a $500 refundable deposit. The final price of the system is $15 500.
The Emulator Elite will also ship with a certificate of ownership, "Emulator Artist" holographic business cards, a custom numbered "Built For…" nameplate and a padded protective cover. An official "Emulator Artist" endorsement will also be available for your website.
Viewers of this article also read...