New DPA d:fin In-Ear Headset Microphone
If you're looking for an all-in-one solution for the stage or broadcasting, DPA is launching a microphone with in-ear headset in the d:fine series.
The new DPA d:fine In-Ear Broadcast Microphone features a discrete omnidirectional microphone equipped with a 5.4mm pre-polarized condenser capsule, a MicroDot connector and an in-ear monitoring system with 1/8" connector. DPA adds that it suits most of the beltpack transmitters available on the market.
You can choose between three configurations: dual-mount and dual-ear, single-mount and single-ear or dual-mount and single-ear and DPA provides two sizes of ear adapters.
The d:fine In-Ear Broadcast Microphone is available in white, brown and beige finishes.
See the full technical description at www.dpamicrophones.com.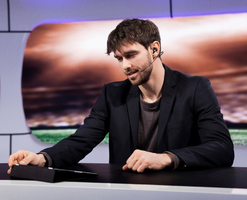 Viewers of this article also read...