5 replies
3 participants
2,081 views
3 followers
Snolla
New AFfiliate
First post
1
Posted on 01/30/2015 at 14:56:16
I recently purchased a
Focusrite Scarlett 18i20
through an online store which came from the vendor The PA Shop in London, Ontario Canada (http://www.pashop.com/). The unit was shipped to me with a broken spring in the mute button. I was forced to pay shipping fee's ($20.00) in order to have this unit sent back and fixed, which is ridiculous because it was sent to me defective. I paid it in hopes that everything would be fine after and I would just suck it up.
Things have gotten worse. I thought they would send me a new unit but instead they repaired this unit. Now I work in retail, I know that the constant shipping of items can cause damage if not handled correctly. The deliveries at my store are sometimes thrown on the ground by the lazy, irresponsible worker. My Scarlett needs between 20-30 power cycles (on/off flicks) to power up properly, light up, and communicate with my machine, my labtop, or my friends machine that I have tested it on. I have installed the drivers correctly, I even found beta drivers from Focusrite that were meant to address this issue but it still will not work.
They sent me an even more defective unit.
I emailed Focusrite Customer Support and recieved this email back: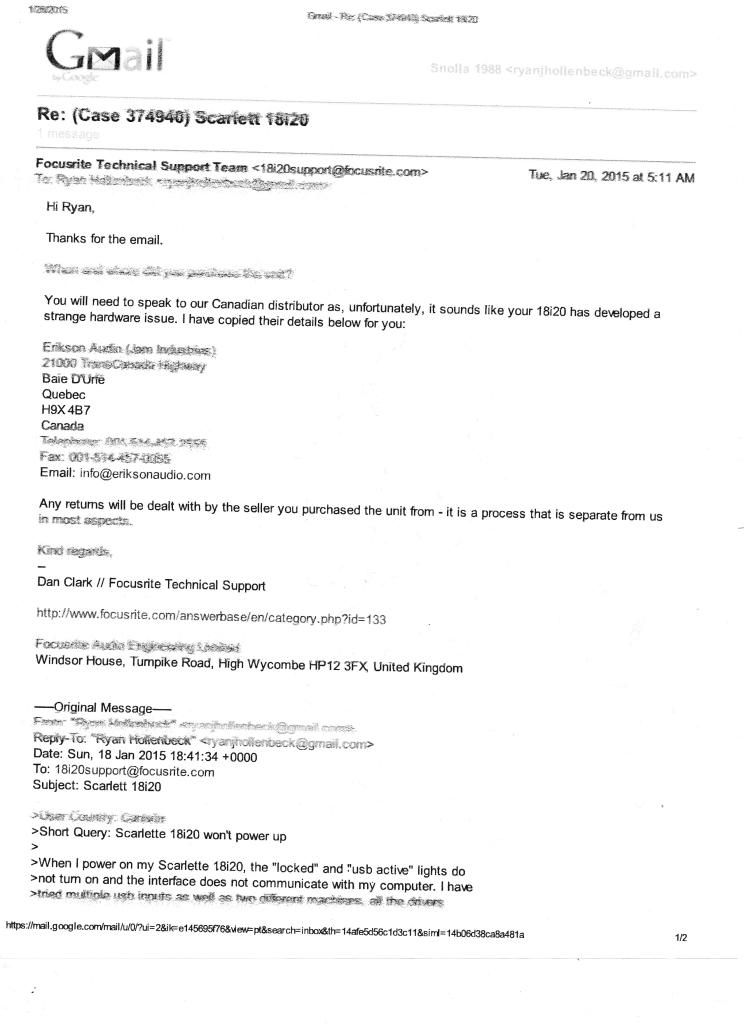 Focusrite has now tried to wipe their hands clean of this and told me to deal with my vendor (The PA Shop) when Focusrite are the ones who sent The PA Shop a defective unit to begin with. I was on the phone today with the PA Shop and the manager and he told me I'd have to deal with Focusrite (LOL) until I showed him this email. He then called the Canadian location for Focusrite in Quebec. The person on at Focusrite told him that I would have to send them my unit and pay shipping AGAIN for them to initiate another repair.
I told The Pa Shop that I want a NEW unit as this one is clearly beyond repair and there is no way I am paying AGAIN for a repair. The PA Shop has a new unit in stock and I told them that I want to exchange mine for that one and be done with it, and leave it between them and Focusrite to get a new and functioning unit for their inventory.
Someone is going to get burnt for the $600 here and it will either be me (the customer who simply tried to buy the unit and has already and unfairly paid for repair once upon receiving it defective), The PA Shop (who are simply the middleman vendor), or the company who sent out a defective unit and is refusing to help with the issue.
This is embarrassing for Focusrite. They sent out a broken unit, forced me to pay to have it repaired, sent it out defective AGAIN, and are trying to force me to pay to have it repaired AGAIN. I want a new unit. I work in electronics retail and I have to do returns and exchanges every few days on items just as expensive and it is no problem. This is so embarrassing, in light of all this I haven't even raised my voice yet. Please, Focusrite, do the right thing and give me a new unit and take the hit for your mistake. I am posting this on every forum I can find, every social outlet I can find, and will continue to make noise until this is handled professionally.
If it takes too long, I will contact my lawyer.
angelie
AFfluent Poster
2
Posted on 01/30/2015 at 23:48:24
well that sonds really professionally.

Throwing this on every board only back fires...



It's not about what you got to use ....    but how you use what you got...
[ Post last edited on 01/30/2015 at 23:52:15 ]
Snolla
New AFfiliate
3
Posted on 01/31/2015 at 11:40:29
How will it backfire? I am simply trying to make people aware of what can happen if they buy from this company.
angelie
AFfluent Poster
4
Posted on 02/01/2015 at 00:01:01
Well what i ment was if reacting like that they are not willing to help you.
Another thing here is that these kind of things can happen to everyone due everyone.

I have been in this kind of situation myself While buying a an anlog console which costed a fortune ( 5 numbers on a row)

You may expect it works but sometimes production fails accour. Offcourse there are clouds hanging above your head and your may react hard but these people can't help it.

First a repair then smoke then yet another form of damage. It took a year before everything was like it suppose to be but it worked. Was i happy.... No way!... But keeping calm and trying to find a solution on both parties is the key here.

I simply invite them at our studio... too see for them selfs..... Getting arround the table and talked about it.......

They where most understanding....

After that.... 3 months laters a truck came with a new console... They even let me keep the old one for spare parts...

So my advice.... Contact simon or dave of focusrite they are here on the board...
Be gentle and i'm sure they are willing to help you.

- Angelie
It's not about what you got to use ....    but how you use what you got...
[ Post last edited on 02/01/2015 at 00:03:36 ]
Snolla
New AFfiliate
5
Posted on 02/02/2015 at 13:44:00
The PA Shop convinced them to give me a new unit. It's taken care of.
Simon Focusrite
AFfinity Poster
6
Posted on 02/06/2015 at 03:34:21
Hi Snolla,
Thanks for the post and sorry to hear that you've been having some issues.
Unfortunately, as Angelie mentioned, on rare occasions electronics components can fail, however we always would want to try and resolve this asap.
In your territory, Canada, the retailer is responsible for actioning the 1 year warranty on your unit. It is also the responsibility of the retailer to offer a replacement unit within 30 days of purchase, if after 30 days, but within 1 year, you are obviously entitled to a free repair. With regards to shipping expenses to and from the retailer, this is a policy which they will set themselves. If a retailer disputes the above, we are always happy to have the distributor discuss this with them directly.
If you are outside of your warranty, it would be your responsibility to contact the distributor in order to discuss a chargeable repair with one of their sanctioned service centres.
I hope the above is helpful, you can also find our full warranty commitment here:
https://us.focusrite.com/warranty
In any case, I'm glad that you now have a new 18i20 replacement and hope that you're now up and recording successfully.
Please do let us know if you should have any issues.
Best regards
Simon // Focusrite Technical Support UK
[ Post last edited on 02/06/2015 at 03:34:43 ]