Hot news
Pianoteq now in version 5
Modartt released today the fifth version of its Pianoteq virtual piano, which adds new historical piano models.
After two years of work, Modartt reworked its Pianoteq piano modeling concept and now releases the fifth version that offers a refined sound, which is described as more authentic, bright and with a better attack. These changes were applied to the D4, Blüthner Model 1 and YC5 Rock Piano grand pianos as well as the U4 upright piano.
Pianoteq 5 also gives you a better control of the sound thanks to new microphone models. Modartt explains that changes in the piano now allow working with directional microphones, including cardioid and Figure 8 models. You'll find no less than 15 new mics modeled from famous brand units and that can be attached together and rotate in the three dimensions and which polarity and proximity effect can be controlled.
As for the tech part, the four pedals in the interface can now be reassigned to Rattle, Lute Stop, Celeste and Super Sostenuto settings and the Pianoteq presets can now include a short MIDI extract. Dithering was also added the the audio export in the Standalone version.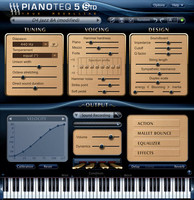 Last, you'll find in the Pianoteq online store nine new pianos:
The K2 Grand Piano combines, according to Modartt, the best components of several instruments. Its price is 49€
The Kremsegg 1 and 2 collections that reproduce 8 historical instruments from the XVIII and XIXth Centuries from famous brands, such as Erard, Besendorfer, Dohnal, Streicher, Bechstein, Pleyer, Frenzel and Broadwood. Pianoteq worked with the Kremsegg Schloss Museum to create the collection which is mainly designed for classic music but the most recent models can be used for jazz and more contemporary compositions. Each collection has a price of 49€.
Modartt adds that the free KIVIR instruments are still those of the version 4, but an update should soon be released.
Pianoteq 5 is available in three different editions:
Stage for 99€ with 2 instrument packs included
Standard for 249€ with 2 instrument packs
Pro for 399€ with 2 instrument packs
Users of previous versions can purchase an upgrade starting from 29€. Visit www.pianoteq.com/pianoteq5 for further details.
Viewers of this article also read...