Tutorial: The 30 Most Anticipated Albums of 2018
The 30 Most Anticipated Albums of 2018
There's a very brief, fleeting moment that Occurs between Observing and reflecting on the music of a fading Season and Expecting the Noises and Chances of This calendar flip to come.
If you blink, you may miss it. So, if you're scratching your head right now, chances are you flashed. That's right. Last year's best album was ... hold on, we'll consider it. And that song we could not get out of our minds for months ... wait, it'll come to us. That is a bit hyperbolic, we understand, but it's not entirely untrue either. It is remarkable the way we can arbitrarily rope off huge masses of half-processed pop culture in our minds and make way for more to come marching through. Is it fair? Maybe not. Ideally, we would have a couple of months to complete digesting 2017 before we'd have to start consuming all over again. But that's life, and ready or not, there are heaps more remarkable records in their way. These are the ones we are most excited to create some room on our plates for. If you wants to download this all album at once then try out this free album download sites. They have an amazing collection of sites where you can easily download whole album at once.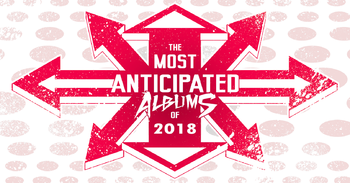 Release Date: Jan. 19th
Why We Are Excited: After a comprehensive tour of their final album, 2014's acclaimed Stay Gold, the sisters of First Aid Kit took a much needed time apart to decompress. After Klara and Johanna Söderberg regrouped, they believed stronger as both sisters and a musical duo and then implemented this feeling of renewal for their fourth full-length, Ruins. The result is a rawer sound and a willingness to expose more of the inner selves than perhaps ever before. Here, the Swedish outfit concentrates to a crushing heartbreak along with the feeling of complete purposelessness that follows, assisted by the likes of R.E.M.'s Peter Buck, Wilco's Glen Kotche, also elements of Americana and '50s-era Everly Brothers balladry. --Lake Schatz
TUNE-YARDS – I CAN FEEL YOU CREEP INTO MY PRIVATE LIFE
Release Date: Jan. 19th
Why We Are Excited: Merrill Garbus has kept busy in the four decades since 2014's Nikki Nack: she contributed to albums from Cut Chemist and Thao and also the Get Down Stay Down, wrote a song for Mavis Staples, also maintained on the road -- and, as evidenced by ancient tracks from new album I can feel you creep into my private life, she might have gotten deeper into house music. The formally released tracks are thrilling, but the live preview of "Heart Attack" proves there is far groovier Garbus to come in the not too distant future.
Release Date: Jan. 26th
Why We Are Excited: In preparation for his ninth (!) Studio album, Nils Frahm made his ideal recording studio. Saal 3 is situated within the historical Funkhaus building in Berlin and boasts bespoke cabling, a mixing desk, and a self-built pipe organ, among other unique characteristics that have helped the German composer fully realize his vision and correctly interpret the structures in his head onto the record. While Frahm was operating at a high level on his past few LPs, including 2015's Solo, All Melody represents an accomplished musician elevated and empowered by a nurturing private environment.
TY SEGALL – FREEDOM'S GOBLIN
Release Date: Jan. 26th
Why We Are Excited: It does not make sense to expect a fresh Ty Segall record, provided the maddeningly prolific clip the seasoned garage pro records at. But his next self-titled effort, released in early 2017, showed Segall's ability to branch beyond his barbarous musical instincts into the subtler territory. To that end, it is going to be intriguing to determine if Freedom Goblin represents a further expansion or even a retreat back to garage punk primitiveness.
RHYE -- BLOOD
Release Date: Feb. 2nd
Why We're Excited: Rhye might have lost one of the two founding members since releasing the Polaris Prize-nominated Woman at 2013, but the R&B outfit has still managed to evolve and become the complete version of themselves on BLOOD. Much of the growth stems from Rhye's many, many months spent on the street: Their music today is more motivated than ever by the intimacy and humanity that goes to a live performance. There is also a noticeable emphasis on the looks of funk and soul, which goes hand in hand with the LA-based behave's desire for closeness and emotional intoxication.
JUSTIN TIMBERLAKE -- MAN OF THE WOODS
Release Date: Feb. 2nd
Why We Are Excited: The last we heard from the ever-entertaining Justin Timberlake was a motif for an animated film about Troll dolls. Perhaps not the most inspired songwriting, but tricky as always. Person of the Woods seems to be coming from a far more earnest place, as JT says his work with producers such as Timbaland and Pharrell Williams is inspired by "my son, my spouse, my loved ones, but more than any other album I've ever composed, where I'm from [Tennessee]." The recent teaser revealed that an earthy, folktronica sound, something which's readily being compared to Bon Iver-turned-pop. It's surely an interesting turn for the former N'Sync-er, and we'll see if he can pull it off well enough to justify his return to the Super Bowl. --Ben Kaye
DASHBOARD CONFESSIONAL -- CROOKED SHADOWS
Release Date: Feb. 9th
Why We're Excited: It has been eight years since we've experienced the emo songwriting of Chris Carrabba to empathize with us while we wallow in our emotional depths, and there is no better time to get a return than 2018. Lead single "We Fight" was a reminder that those of us who feel like loners are still part of a community built on the approval of their outcast. Emo has its ups and downs artistically as well as culturally over time, but with the recent explosion of talented young bands in the genre along with a milieu longer needing rallying cries than, Dashboard Confessional is nicely set to return to the vanguard. --Ben Kaye
FRANZ FERDINAND -- ALWAYS ASCENDING
Release Date: Feb. 9th
Why We Are Excited: Following the collaborative album FFS, released together with the band Sparks in 2013, the boys in Franz Ferdinand are getting back to business. Consistently invisibly marks the band's first proper album because of 2013 and features production from Philippe Zdar, that has previously worked with the likes of Phoenix and Beastie Boys. The self-titled lead single is heavy on synth and gives fans their first look at new buddies Julian Corrie and Dino Bardot, who will help fill the gap left by founding member Nick McCarthy, who departed in 2016. Now 14 years removed from their smash hit "Take Me Out," Always Ascending offers a chance for Franz Ferdinand to wipe the slate clean and start fresh. --Zack Ruskin
SUPERCHUNK -- WHAT A TIME TO BE ALIVE
Release Date: Feb. 16th
Why We Are Excited: Do not take the title of Superchunk's 11th studio album at face value. What a Time to Be Alive, out of its moribund-looking cover art to its angry-as-all-fuck title trail, appears poised to be the most pointed and overtly political dedication of this iconic indie act's livelihood. In today's turbulent times, we will take all the fiery sonic catharsis we can get. Luckily for lovers, Superchunk have not missed their mark, however. --Ryan Bray
WILD BEASTS -- LAST NIGHT ALL MY DREAMS CAME TRUE
Release Date: Feb. 16th
Why We Are Excited: Wild Beasts announced their separation in September, but the UK indie rockers' many enthusiastic fans will have one final album to cherish. The culmination of more than a decade and a half together, Last Night My Dreams Came True features 13 live studio recordings of tracks pulled from throughout the band's five studio albums. It is a bittersweet farewell, but a strong one as evidenced by early sample "The Devil's Palace," that inventively unites Limbo, Panto highlight "The Devil's Crayon" and "Palace" out of 2014's Present Tense. --Lior Phillips