Acoufun
« 
A real sound bubble

 »

Published on 07/26/16 at 07:33

Value For Money : Excellent

Audience: Anyone

After trying them out in a store, I went directly back home to try them in their future environment.

Getting through the highway. Once home, I unpacked them and put them on on a home-made shelve. Put the laptop on my desk, the audio interface, plugged the cables, started the audio player. I sat comfortably in my armchair, turned the volume knob on my digital audio interface and… no sound!

Well, no sound from the speakers, but there is from the laptop itself. What the...?
Everything was plugged correctly (checked). Speakers turned on ? Checked.
Traktor must have failed to detect the interface, which it usually does.
I leant over my computer to sort this out, and that's the moment I start to hear sound from my speakers; I go back into my armchair and… the sound comes from the PC again.
I put the laptop away from the desk, the sound starts floating in front of me just above the desk. A clear, neat sound bubble.
Got it ! I launch
Riders on the Storm
. Sound starts on the left speaker, the singer starts on both speakers and the drums in the right one. Jim Morrison is so close, in front of me, singing. Just great!
The speakers are 4 ft from each other, and I am located 4 ft away from each of them. The sound is at the barycentre, above the desk, moving left and right with the stereo signal. To hear one of the speakers, I have to move my head 4 in on one side.
An explanation for this phenomenon can be found in Presonus's description:
The R65 and R80 feature a custom 6.8-inch² Air Motion Transformer (AMT) tweeter that responds to the subtlest waveforms and the highest frequencies. (…)Unlike a traditional 1-inch dome tweeter, which provides a mere 506 mm² projection area, an unfolded AMT tweeter diaphragm provides 8 to 13 times the projection area so its sound coverage is much larger. For example, the 4,400 mm² PreSonus R65 and R80 tweeter provides coverage equivalent to that of a 3-inch dome tweeter. This enables the R-series monitors to provide a much wide stereo soundstage than traditional designs. (…) The broad, even horizontal dispersion creates a wide sweet spot. Because they are less subject to room-anomaly interference, the R65 and R80 react more predictably and sound more consistent from room to room.
The following scheme is supposed to explain how it works :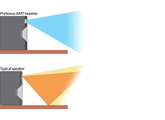 To make it short, the tweeter is surrounded by a rectangle-shaped horn that gathers the sound in a space that is wider than high, which is said to avoid unwanted sound reflections in the workspace and ceiling.
I think it would take some testing with people used to monitoring speakers to reach conclusions. What is sure is, with these speakers 6 in over my desk in my 36sq m room with a ceiling 9 ½ ft above, all this without any official and worthy acoustic treatment, I have a very good listening quality from my armchair with no unwanted side reflection.
I say "no official acoustic treatment", for the floor is largely covered with carpets behind my listening position while in front of it are 7ft high of shelves covered with books. There are also thick curtains and a carpet on the wall opposite the window, and the ceiling is joisted. Clapping my hands reveals a short reverberation time. Basses are not exaggerated, except for a small, uncovered wall angle that provides a short echo. I still diminished the setting by 1.5 dB behind the speakers.
For close monitoring, I put the volume knob around 1 to 1.5 for a max level of 10. Beware in a very small room, they may be too powerful if there are reflections.
These active monitors have the following specs :
• 2-way active studio monitor with AMT (Air Motion Transformer) ribbon tweeter
• Class D biamping: 100/50 Watts
• 8" woven kevlar low-frequency driver
• Custom-designed AMT tweeter with ultra-thin kapton membrane (<0.01mm)
• Tweeter surface: 4.4cm² (equivalent diaphragm diameter: 3")
• Frequency response: 40 - 22000 Hz
• Crossover frequency: 2.6khz
• Variable volume range (a-type taper)
• Switchable HF correction: linear / +1 / +3 / +6 dB
• Switchable HPF (linear/60hz/80hz/100hz)
• Switchable "acoustic space" LF correction (linear/-1.5db/-3db/-6db)
• SPL: 107 dB
• Inputs: balanced xlr, balanced 6,3mm trs, unbalanced rca
• Input impedance: 20kohms (balanced), 10kohms (unbalanced)
• protection: rf interference, output-current limiting, over-temperature, turn-on/off transient, subsonic filter
• Energy conservation mode (auto standby) that can be switched off
• Cabinet: vinyl-laminated, medium-density fiberboard
• Blue or black front panel
• Weight : 9 kg
• Dimensions: 241 x 309 x 379 mm
These speakers are very well built. They are delivered with 4 felt pads to be glued underneath. The hex key (necessary to change the front plate) is also included. The user manual features several languages.
These speakers perfectly suit my aim for spectral balance so as to properly select music for balls.
I wish they'd have crackles on old recordings stand out more, but now I know about this weakness I'll be particularly careful.