Everybody knows guitar players love to collect pedals. Pedals are nice and good, yes, but they aren't much worth if you don't feed them some power. Regardless of whether you settle for a small setup with just an overdrive, reverb and delay or an XXL pedalboard you will need a power supply for the pedals. There are countless options and for every taste: multiple outputs or not, isolated, with different voltages or plain 9V, etc. Several brands compete for the lion's share of the market and it's not always easy to make yourself a clear picture. So, again we asked our French readers to tell us which are their favorite brands. And we got some interesting results we wanted to share with you.
The question we asked was: Which is your favorite brand of power supplies for pedals? And this are the results we got: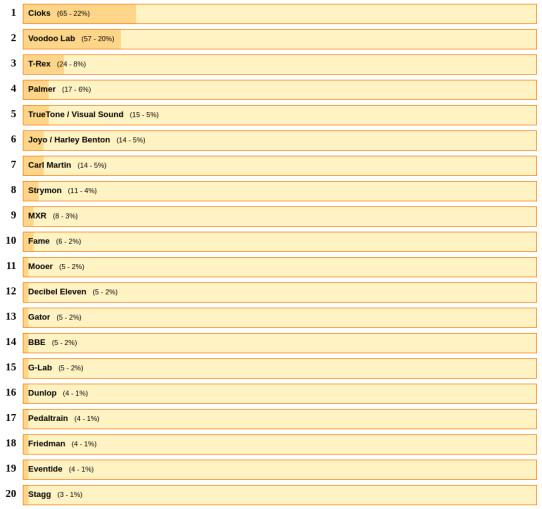 As the verdict fell it was obvious that two brands clearly stood out from the rest. In fact, power supply specialists Cioks and Voodoo Lab together received over 40% of the votes! However, other brands also stand out including (surprise, surprise!) an entry-level manufacturer often decried by many. Read on for the details…!
The Danes at Cioks went so far as to beat one of the top names in the power supply world: Voodoo Lab. Established in 1991, Cioks offers a wide range of sophisticated products manufactured in the company's own Polish factory. Most of the company's products provide several isolated outputs with adjustable voltage, a general voltage selector to switch form 120 to 230 volts, a toroidal transformer, visual feedback via LEDs, and particularly well-protected circuits. Certain models have some original features like the LINK technology, which allows you to connect two or three PSUs with one single cable.. Cioks also offers, in collaboration with Eventide, power supplies especially designed for digital pedals. You'd have a hard time finding anything more comprehensive.
Despite its status, Voodoo Lab had to settle for second place only. But it got enough votes to make it a close call. We must admit that Voodoo Lab is attractive in more than one way, starting with its manufacturing quality: every single one of its product is hand-made in Northern California. It doesn't have as many models as Cloks, and they are more sober, but each of them has been conceived with a specific use in mind. Be it the massive Mondo, capable of adapting to any situation, the 4×4 aimed at supplying four digital and four analog pedals with power, or the simple AC, there's something for every need.
T-Rex came in third. Another Danish representative which distinguishes itself from the previous two in that it's not a specialist in power supplies. T-Rex is first and foremost a renown pedal manufacturer. But they started manufacturing power supplies shortly after their introduction in 1996 with the idea of providing an all-round experience. They have four models available today. While the Fuel Tank Junior clearly distinguishes itself due to its compact design, the rest of the models stand out due to their tech specs. The Fuel Tank Chameleon and Classic work with isolated blocks, whereas the Goliath features individually isolated outputs. T-Rex PSUs are less versatile and comprehensive than other high-end products so you your choice will boil down to your needs.
The rest
The rest of the brands did pretty similar, including the likes of Palmer, TrueTone, Carl Martin, and… Joyo! The Chinese manufacturer is well—known for its low-cost products and has clearly benefited from the sponsorship of a giant German online reseller, who sells Joyo products under the Harley Benton brand. But it's especially the excellent value for money of the Power Plant and Power Plant Junior power supplies that allows the Chinese manufacturer to make its way among the best. Try them out!