Ever since the futuristic RH450 came out (directly from a Georges Lucas film), the viking manufacturer has kept on developing products for bass players.
A couple of years later, the manufacturer's catalog includes a wonderful groove chapter: no less than five amplifier heads, eight different speaker cabinets and five combo amps. For a brand that didn't exist at all in this market 10 years ago, the conversion begins to look like a priesthood. And it's also worth mentioning that under the guitar amp category in the TC Electronic catalog nothing seems happens: this absence could make people envious and be misunderstood by guitar players who have been loyal to the brand's effects units ever since the beginning.
The company founded by the Rishøj brothers in 1976 became renowned thanks to this small market segment. The company first started manufacturing effect pedals, then rack processors and today it offers a wide range of products from studio recording solutions to monitoring and post-production or broadcast systems, and even digital P.A. solutions.
Up to now, their amps have shown a rather modern character: compact size and light weight, preamp stage with preset memory, front panel fully packed with LEDs and innovative design. But to seduce the rock musicians who sometimes reject new technology and appreciate more elementary things, TC Electronic developed an amplifier for their taste: big, heavy, no LEDs around the controls (a bit vulgar in the bass guitar world…), old-school design, and with a red front panel to set all subtleties aside.
Not So Elementary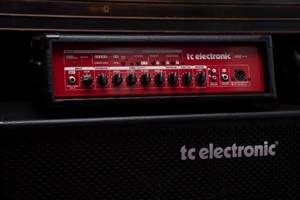 Having a closer look at the BH500, you'll think of anything but minimalism. The front panel is fully packed: compressor, four-band EQ, integrated tuner, contour control, tube simulation (simulates an all-tube amp), high-frequency filter, and even three memories to save your settings. The front panel also offers an instrument input (active or passive), an aux input (RCA), a headphones output, and a direct out. The rear panel only hosts the on/off switch and one speaker out. Why only one speaker out instead of two? Don't ask me… there is certainly enough space in the rear panel!
As the name implies, the amp head delivers 500 watts RMS (@ 4 ohms). Now, let's talk about the speaker cabinet provided for this review. The BC210 includes a pair of 10" Eminence speakers and an Eminence tweeter for 250 watts of power (8 ohms). The rear panel includes two rather large bass reflex ports that ensure a reliable air flow. As my grandma used to say — she already slapped when Roosevelt was President — you can estimate the output power of a good bass cabinet by the size of its bass reflex ports. I guess grandma would have been happy with the BC210: you can almost fit a handball inside the ports! The dimensions of the cabinet are 18" × 26" × 15", and it weights 42 lbs. The amp head weights 28.6 lbs. The total weight of more than 70 lbs is enough for the young and wild rock bass players to develop their back muscles.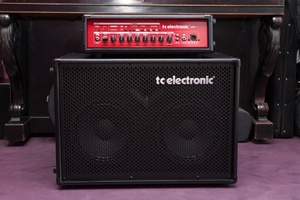 The two components are not manufactured in the same place: the head comes from Thailand while the speaker cabinet is manufactured in the "PRC", aka the People's Republic of China. This seems to be the new trendy way to say "Made in China"… Important detail: the head features a wood cabinet with black tolex covering. The speaker cabinet uses this same covering so you don't need any protection cover for your gear. Both the speaker and the head are equipped with eight rubber pads allowing you to use them vertically or horizontally.
The system as a whole inspires confidence. The controls seem to be good quality and the finish is perfect. Both products give a sturdy impression. If the stack was a bit higher and a viking were sitting on top, it would almost remind a drekar arriving in Normandy to plunder villages. The slightly glossy black finish and the red details make me feel like doing some ax throwing with my friends during rehearsals… while drinking several liters of mead! You can't imagine the suggestive power of some objects… and cardinal red is amazing. For example: I own a pair of red cardinal underpants that I rarely wear because they make my girlfriend nuts. As soon as I wear them, I feel like Sean Connery in Zardoz, John Boorman's most freaky movie. OK, enough with the introduction. It's time now to disturb my neighbors', both up and downstairs, so no one gets jealous!
By Thor's Hammer!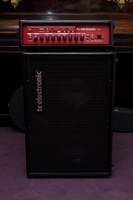 Like the god of war, whose chariot is drawn by two goats, the BH500 and its two 10" speakers stand proudly by my side. It's time for me to plug my favorite weapon, a Precision Bass Deluxe with a deep B as fifth string. I always try out amps, especially compact amps, with bass guitars that allow me to play deeper than the standard E string. Thus, I can check the reliability of the integrated speakers. For the present review, I used a Beyerdynamic M88 dynamic microphone to record the speaker cabinet (I had to give back the Zoom H2 I used up to now) through a Novation interface. I also used the DI output to have an alternate solution and to reduce the natural reverberation of my office, which I haven't been able to transform into an isolated studio because of lack of money (and the consent of my girlfriend). How many sacrifices in order to save my relationship! But I know that I'm not the only one having this dilemma that brings us, poor artists, to choose between a warm relationship and practicing our passion. In revenge, and considering that I'm home alone today, I will play even louder than usual! Because it's fun and it's the perfect opportunity to make my loving neighbor repeat once again: "Lower the volume!"
First impression: even halved, the output power shakes the walls of my apartment. Danish gear (at least in its conception) is pretty sturdy and makes a lot of noise considering that it only uses a pair of 10" drivers. I couldn't succeed in overloading the speakers, even though the two dual-coil pickups of my bass tend to push amplifiers and speakers to their limits. From the very first note, the sound color of the Eminence speakers reminded me of my youth. Nowadays, many speakers use neodymium magnets and I have nothing against that, especially since I use to play an Epifani speaker cabinet. But it's a pleasure to hear this somewhat precious sound and its slightly vintage character. Second observation: the EQ is easy to use if needed (I had to use it because the flat sound of my bass didn't quite satisfy me).
The controls are effective — the slightest change leads to a real sound alteration — but not too complex. Four controls for four EQ bands, simple as that. You can also use the two-stage contour filter and the brightness control to fine tune your sound. The contour filter comes in the form of a small push button and two LEDs. Press it once to attenuate the mids (LED 1) or twice to cut them (LED 2); press it a third time to bypass the contour filter (both LEDs off). The Tweeter Tone control allows you to boost or cut extreme high frequencies. It doesn't set the tweeter volume (you would need a bi-amp system with appropriate connections), it rather changes the tone of the signal. This means that it also affects the DI out signal. The result is pertinent. It goes from hi-fi to "vintage" in a breeze.
Doigts slap reglage 1

00:48

Mediator Reglage 2

00:28

Slap Reglage 3

00:23

Sature

00:32

Rock Reglage 5

00:32
A compressor and a tuner are also included. My opinion about integrated compressors can be summarized in one sentence: if you want a good compressor, buy a good compression pedal or rack. However, I won't speak ill of the H500 compressor. It does its job without shortening notes and the LED meter allows to set the compressor easily. It's alright but it doesn't guarantee amazing sounding results. Like I said before, if you want a good compressor…! The same LEDs are also used by the tuner, which mutes the signal when on. You get five LEDs for deep B to G string; C-string users have to do without. As for the tuner, you won't have any problems tuning your bass guitar unless you stand 60 ft. from your amp or you forgot your glasses in the gig bag. This function is useful for all musicians who don't have a perfect pitch. Now, let's take a look at the tube simulation which, to write it twice, is presented as both a tube preamp and a tube amp simulation. All this with the action of a single control! As if by magic, a 6L6 appears in the shape of a rabbit while some AX7 adopt the shape of turtledoves… How wonderful is magic!
But how far can Danish magic take us? I mean, if you are not demanding and still have the soul of a child, this function can be nice to add warmth to a clean sound by increasing harmonics. Which is the opposite of what all-tube amps, well-known for being linear, do. (To learn more on this topic read my last SWR review: https://en.audiofanzine.com/bass-guitar-amp-head/swr/headlite/editorial/reviews/light-headed-but-fully-packed.html.) When you turn the control clockwise the low and mid frequencies get a bit richer (from 0 to 3). To get a crunch sound turn beyond 4, and if it's distortion you want, try 7 and above. Although I'm not a specialist, I find this distortion quite good. Even extreme settings produce a warm and accurate signal, and are, to my opinion, the only reason for this control: it allows you to push harmonics in order to color the signal and drive it up to distortion.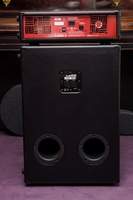 The ultimate function provided by this amp head is the option to save up to three presets as easily as a radio station on your car stereo. Just push and hold one the three buttons to save all settings. Important: remember that neither mute nor master volume settings are saved. I learned it the hard way while switching from a simple preset to a preset with high gain: I almost landed against the wall in front of the amp, even though the volume setting was the same. Ever since, I feel like I have cardiac dysrhythmia… So, to wrap this up, I would say that this function is simple but not essential. If you don't want to use a preset, just change the settings directly on the front panel.
Is the preamp stage digital because of the preset feature? I don't know. I didn't have the opportunity to open the amp head and I found no answer to this question in the technical documentation provided. To my ears, the sound feels analog. But that's only what my poor ears told me. The system is marketed for rock bass players and I think the different sound characters provided by the preamp/amp combination, together with the sound color of the Eminence speakers is very appropriate for that market segment. However, this stack can be used for any music genre given its versatility. It can be attractive for most bass players, from hard rock to groove players (and don't forget that musicians like to play all sorts of different music styles). When it comes to playing, every genre is an enrichment!
A practical detail: you can use the head without connecting it to a speaker. Sometimes, with certain amps, such a thing is dangerous for minimum impedance reasons and because a smoking amp head is a painful sight for its owner. With this model it's impossible because the power amp stage is automatically switched off when you use headphones or the DI output.
Affordable Price
I find the street price very reasonable: $350 for the speaker cabinet with two 10" speakers plus tweeter and $500 for the 500-watt amp head. At this price, you'll want to buy a second speaker cabinet, a 2×12" or 4×10" for instance. The quality of the products seduced me considering the price. This stack opens new horizons within the manufacturer's product range. TC Electronic now offers a more traditional solution to bass players, which nevertheless provides modern features and performance.