Gallien Krueger launches the CX bass cabinets
Gallien Krueger completes its catalog with the new CX Series, which features three bass cabinets.
The CX Series is designed to be used with the MB bass amp heads. All the models feature Gallien Krueger woofers with ceramic magnet manufactured in the US, as well as the same compression drivers that equip the MB Series II combos and MBP cabs.
The three CX cabinets are available in 4 or 8 Ohm versions, with Speakon and 1/4" jack inputs. Gallien Krueger also included a horn with a defeat switch.
The CX115 model hosts a 15" woofer and handles 300W at 8 Ohms. US price announced is $349.
The CX210 features 2x10" woofers and handles 400W at 8 Ohms. Pricing is $349.
Last, the CX410 is a 4 x 10" model and handles a power of 800W. Pricing announced is $499.
Discover the CX Series at www.gallien-krueger.com.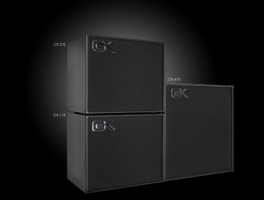 Viewers of this article also read...