Hot news
[NAMM] The Engl amps modeled by Brainworx
Brainworx and Engl have collaborated on the brand amplifiers modeling plugins that will be introduced at NAMM 2013.
Brainworx explain that the Engl amplifiers were modeled under the manufacturer's supervision in Germany. Brainworx used a new modeling technology to reproduce the power amps and these models.
The plugins will be sold on the Plugin Alliance website and will also be ported to the Universal Audio UAD-2 and Apollo platforms.
More info expected next week.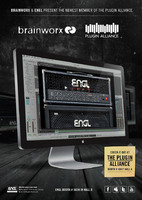 See all NAMM Show 2013 news items »
Viewers of this article also read...