See all Musikmesse 2011 news items »
The SD11 digital mixer was unveiled at DiGiCo's stands 8.0 F60 and G56 and is designed to be a desktop console or mounted in a 19" rack.
By removing the end cheeks and arm rest, 19" rack fixings are revealed to make it possible to incorporate the SD11 into a touring or installation environment.
http://www.gearjunkies.com/view_image.php?id=13640
Manufactured with a steel chassis and a polycarbonate-overlaid, aluminium work surface, the SD11 features 12 touch sensitive moving faders below a 15" touch sensitive screen.
16 Microphone pre amps, eight line outputs and two mono AES I/O are provided, in addition to which users have the option to connect a DiGiCo D-Rack to the CAT5E port. This provides a remote I/O rack frame with an additional 32 Microphone inputs and up to 16 outputs.

Further connections are a MADI port, GPI/O, MIDI, Overview screen output, Word Clock I/O, an Ethernet port for console remote control / networking and a USB port for file exchange and session backup. The SD11 features 32 input channels with full processing, eight of which can be configured as full Flexi Channels. All inputs have dual mono inputs for fast 'Main' and 'Alt' channel switching.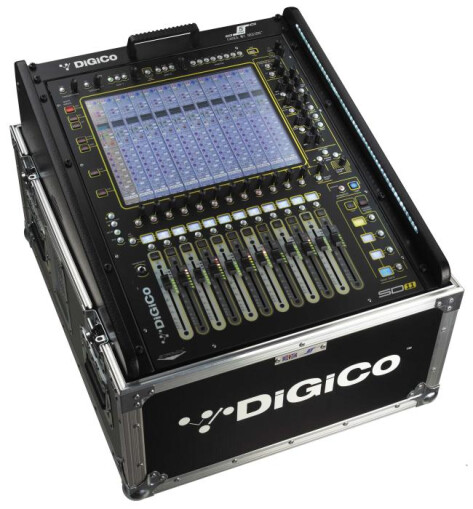 Standard input channel processing includes channel delay; single and multi channel presets; HPF and LPF, with 24db per octave; four bands of parametric EQ with band curve selection; compressor and gate; moveable insert point and access to all bussing. Standard output channel processing includes output delay; four bands of parametric EQ; filtering; compressor and gate; moveable insert point; groups with buss to buss routing; and Auxes that have direct talk to output with dim control. Dynamic EQ provides both expansion and compression on the four bands of the parametric EQ. These processors can be assigned to any of the input or output channels, whether they are Mono, stereo or LCR and four units can be allocated as required. Multi-band compressors are also installed. Again, four units can be positioned on either input or output channels.
The SD11 has 12 Flexi Busses, which can be user configured as either mono or stereo. In its maximum configuration these could be used as 12 stereo mixes - equal to 24 busses. An additional stereo or LCR Master buss and 8×8 output matrix is provided. Eight control groups (VCAs) are also provided. Dual solo busses are also provided.

An unlimited amount of Snapshots can be saved and recalled, with user defined recall scopes being set globally, per snapshot or per channel function. Additional tools include feature-defined crossfade, sequence fire, MIDI control and a Snapshot notes panel.

In addition to the SD11's core processing functions, insertable Stealth stereo FX and 12 graphic EQs can be routed, controlled and snapshot recalled. Four Stealth stereo FX units can be configured from the palette of thirty-three effects. More processing is available through the SD series integration with Waves plugins. DiGiCo provides control of plugin parameters, as well as recall of snapshots and single loading and saving, from the console's surface. Sixteen stereo Sound Grid racks can be inserted, with up to eight plugins in each rack.

Like all DiGiCo consoles, the SD11 software runs on a standard PC or Intel-based Macintosh for offline preparation and remote control of the console. One SD11 can also be linked to another, using a standard CAT5 crossover cable, providing 24 faders for control. In this configuration, the audio engine of the first SD11 provides redundancy for the other.

Security options can be configured to protect console settings from accidental or unwanted change. These can also be password protected, making it possible to vary the amount of user parameter control.
No pricing info.

More details are available on the DiGiCo website.
Be the first to post a comment about this news item
(0)
Viewers of this article also read...