Create dynamic cymbal swells in Kontakt
Julien Tauban, aka Loops de la Crème, introduces a new sound library dedicated to dynamic cymbals swells in Kontakt.
Cymbal Rolls features 278 samples in WAV 24-bit / 48kHz formats from the recordings of 10 Meinl, Sabian, Paiste and Zildjian cymbals (various sizes) for which you can control the dynamics by using the velocity wheel on your keyboard controller. The collection also includes 10 cymbal roll Instruments as well as a dynamic set for all the cymbals. Loops de la Crème adds that you can assign and mix multiple cymbals to create your own dynamic instruments.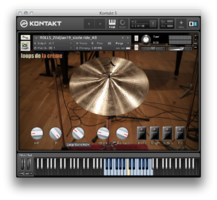 Cymbal Rolls is designed for Kontakt, with a GUI that includes high-pass and low-pass filters, a Notch to cut the resonance in the low-mid and high-mid frequencies, a reverb with 20 custom impulse responses, as well as attack, release, high frequency boost and stereo width controls.
Cymbal Rolls is available for the introductory price of 21€ until November 30th, regular price is 42€. More info at www.loopsdelacreme.com/cymbal-rolls.
Viewers of this article also read...