Instead of launching the umpteenth reissue of a catalog instrument, Fender decided to innovate by mounting high-output passive humbuckers on a new series called Black Top. This new product range includes a Telecaster, a Jaguar and a Stratocaster equipped with the same pickup combination based on two humbuckers. The Jazzmaster gets a more original pickup combination with one humbucker (Hot Vintage Alnico Bridge Humbucking Pickup) and one P-90 in the neck position.
The Sonic Boom!
Originally, the humbucker pickup was invented by Gibson's engineers to suppress unwanted noise by electrically and magnetically linking two single-coil pickups in series and out of phase. From the "practical" standpoint, guitar players know the properties of such pickups: a powerful, round and warm sound. As a consequence, humbucker pickups are the best solution for distortion sounds. Fender has a strong personality due to its single-coil pickups that provide a crystal-clear sound (they can be heard on many legendary rock albums). However, they could never really take the lead in the humbucker market — controlled by Gibson since the 1950's.
Design

The series is entirely produced in Fender's factory in Mexico. All bodies are made out of alder with bolt-on maple necks with 9.5" fingerboards and 22 medium-jumbo frets (except for the Jazzmaster). By standardizing the design and finish Fender can actually lower the price to a MSRP of $450! Most models are available with two different fretboards: maple or rosewood. The latter gives a warmer, rounder and more precise tone. Considering the price, we guess that the bodies are not made out of premium-quality wood but rather out of two or three glued pieces of wood. Just being realistic: with such prices, you cannot expect to get the same resonance as from a massive-wood, one-piece body. All guitars have a perfect skin: a polyurethane varnish with a faultless glossy finish. The neck finish is the same as on the Classic Reissue Series. It is very thick and protects the wood perfectly, providing excellent grip and optimal playing comfort while allowing to quickly access every point of the neck. The truss rod adjustment is accessible on the top of the neck, which is a modern and very convenient feature. The nickel/chrome hardware and the tone and volume knobs on all models recall the look of Fender amps. We must admit that this is a very original idea but it won't be everybody's taste.
You're In the Army Now!
Let's take a look at all new recruits of the Black Top Series.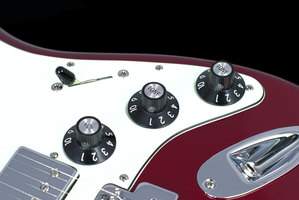 The look and sound of the Stratocaster is pretty well accomplished. The combination of the Candy Apple Red finish and the three-ply Mind Green pickguard looks wonderful and make the guitar a real eye-catcher. Two other finishes are available: Sonic Blue or Black with rosewood or maple fingerboard. The guitar has two Hot Vintage Alnico Humbucking pickups with chrome covers, a volume control, a tone control, a vintage-style tremolo, and a five-way toggle switch.
Position 1: full bridge pickup The sound is powerful and rich. It's perfect for aggressive but precise rhythm parts.
Position 2: inside coils of the the two humbuckers. The response is hollow in the mid frequencies, the sound is lusty but not too wide.
Position 3: bridge and neck pickups in series. The low-frequency band is softened so that the mid range seems to be boosted, resulting in a flat and massive character.
Position 4: outer neck pickup. The most interesting sound among the five available. You get that unique Stratocaster sound without the sharpness.
Position 5: full neck pickup This setting produces too many lows, which results in a very heavy timbre. The tone is too heavy for rhythm parts but interesting for lead guitar.
Important: the sound samples were recorded with a The Valve 2|50–1 and a Two Notes Torpedo VB-101. We didn't add any effects and the amp's EQ stayed flat.
Strat Clair Chevalet

00:15

Strat Clair Pos 2

00:18

Strat Clair Milieu

00:19

Strat Clair Pos 4

00:18

Strat Clair Manche

00:18

Strat Crunch Chevalet

00:13

Strat Crunch Pos 2

00:13

Strat Crunch Milieu

00:12

Strat Sat Pos 4

00:16

Strat Sat Pos 2

00:15

Strat Crunch Pos 4

00:12

Strat Crunch Manche

00:13

Strat Sat Chevalet 1

00:14

Strat Sat Chevalet 2

00:14

Strat Sat Milieu

00:16

Strat Sat Manche

00:17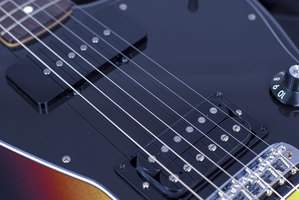 The real jewel of the series is the Jazzmaster. At first sight, it is radiant with a wonderful three-color sunburst finish. The neck has a rosewood fingerboard with 21 frets (22 frets on all other models). The guitar is equipped with a Jazzmaster Duncan Designed pickup (based on the classic P-90 single-coil) in the neck position and a Hot Vintage Alnico humbucker without cover in the bridge position. Like the rest, the guitar includes a vintage-style tremolo that needs a rather precise adjustment if you want it to stay in tune. Do note that you won't be able to make Van Halen bends, this tremolo was not conceived for that! The guitar is also equipped with a three-way toggle switch and chrome hardware. The neck pickup produces a lusty, clear and well-balanced sound that will give a biting character to your favorite riffs! The middle position provides a very funky sound, where the P-90 is more audible than the bridge pickup (at least with our test guitar). Separate level controls for each pickup would have been much appreciated.
Jazzmaster Clair Chevalet

00:15

Jazzmaster Clair Milieu

00:16

Jazzmaster Clair Manche

00:18

Jazzmaster Crunch Chevalet

00:12

Jazzmaster Crunch Milieu

00:12

Jazzmaster Crunch Manche

00:12

Jazzmaster Sat Chevalet

00:17

Jazzmaster Sat Milieu

00:17

Jazzmaster Sat Manche

00:19
The Telecaster is available in Candy Apple Red, Black and Silver finishes. It is the less interesting instrument in the product range because the two Hot Vintage Alnico humbuckers take its personality away. From a visual standpoint, the plastic frames of the pickups don't look very nice. But since you can't judge a book by its cover, let's take a closer look at this guitar. We note some important innovations. First of all, the chrome metal plate holding both controls and the three-way toggle switch is inverted. When you take the guitar in your hands, you'll also notice that the plate was displaced a bit and is closer to the right hand. This provides an easier and faster access to the tone and volume controls. The string-through-body Hardtail bridge in chrome finish gives more sustain to the sound. The tone is round, smooth and almost too "sweet" in both neck and bridge positions. The hot, spiced and twangy character of the Stratocaster gets totally lost. If you play country or funk music, this guitar is not for you! The sound has no twang and sounds too "flat" for such music styles.
Telecaster Clair Chevalet

00:16

Telecaster Clair Milieu

00:15

Telecaster Clair Manche

00:15

Telecaster Crunch Chevalet

00:16

Telecaster Crunch Milieu

00:16

Telecaster Crunch Manche

00:17

Telecaster Sat Chevalet

00:15

Telecaster Sat Chevalet 2

00:13

Telecaster Sat Milieu

00:15

Telecaster Sat Manche

00:14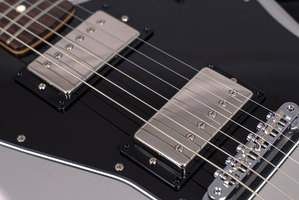 The Jaguar is the only member of the Series that has a maple neck with rosewood fingerboard and a slightly shorter scale, 24" instead of 25.5". It is available in two different finishes: Black or Silver. The guitar is equipped with an Adjusto-Matic bridge that stays perfectly in tune when properly adjusted (which was not the case with the guitar we received). If you have prior experience with the confusing settings of a standard Jaguar, this version will make you very happy! Using the controls is a breeze. They are reduced to the simplest possible setup and coupled with a three-way toggle switch. The lack of a dedicated tone control per pickup is a pity. The neck pickup sounds too dull with fat distortions. On the other side, it's a real delight with crunch sounds. We also regret the lack of a tremolo.
Jaguar Clair Chevalet

00:11

Jaguar Clair Milieu

00:12

Jaguar Clair Manche

00:12

Jaguar Crunch Chevalet

00:16

Jaguar Crunch Milieu

00:15

Jaguar Crunch Manche

00:15

Jaguar Sat Chevalet 1

00:10

Jaguar Sat Chevalet 2

00:14

Jaguar Sat Milieu

00:10

Jaguar Sat Manche

00:10
Conclusion
With the Black Top Series, Fender offers a very wide range of sound variations and finishes. The four different guitars use surprising pickup combinations! And their playability is almost perfect! The jewel of the family is the Jazzmaster, which is a really nice guitar aesthetically speaking but also provides a spicy expressive sound. The price in stores ($450) is very appealing and will surely attract guitar players who want a Fender without going broke.