Dark Link is a Midi/USB-to-CV/Gate interface to control vintage monophonic synthesizers via Midi or USB.
Dark Link has available 4 analog control voltage outputs (CV1…4) and one Gate output.


In/Outputs and controls:
Gate Out (with LED for Gate display and learn function), 0/+5V
CV1: controlled by Midi note messages, 1V/Octave, 0…+5V
CV2: controlled by Midi pitch bend, ~ –2.5…+2.5V or ~ 0…+5V (can be selected by an internal jumper)
CV3: controlled by Midi velocity, 0…+5V
CV4: controlled by Midi control change messages, free assignale controller in learn mode
Glide control (portamento function for CV1)
Power supply (12V AC/min. 400mA)
CV1…CV4 and Gate are 3.5 mm miniature jack sockets

Other Features:
Midi channel, reference note and Midi control change number for CV4 are adjusted by means of a learn button and LED
Metal case, made of 1 mm steel, black coated with white printing
Dimensions: about 145 length x 35 height x 60 depth (all measures are in mm)
These parts are included (worldwide): one USB cable (type A-B), user's guide
These parts are included (only within Europe): power supply (12 AC/min. 400mA) for 230V mains voltage with European mains plug, ask the Doepfer representative in your country if a power supply is included if you from other countries
Order suitable patch cables in addition if required (Midi, A-100 patch cable in the required length, adapter cable 3.5 mm – 6.3 mm /1/4" jack plug)
Powering the device via USB is not possible, because the analog circuits require a dual voltage (+/-12V).
If you want to connect the Dark Link gate output to devices that use S-Trig a special S-Trig cable is available.

A modular version of the Dark Link is also available: A-190–3
Pricing & Availability
Around 120.00EUR
Tentative release date: Spring 2011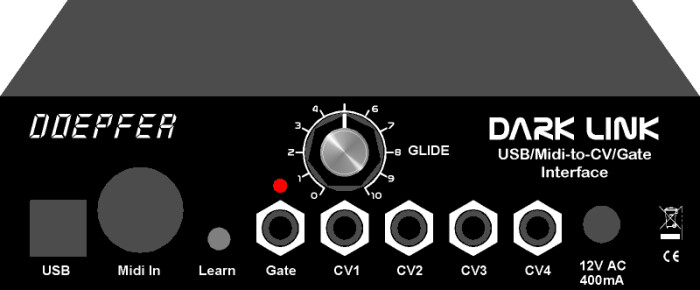 Be the first to post a comment about this news item
Viewers of this article also read...