It can't be easy to manufacture a guitar series based on the mythic Gibson Les Paul, considering that there are zillions of copies, some of them very good, and also because there will always be purists who state that no copy will ever come close to the real deal... SR presents its Les Paul interpretation and offers some rare customization options: finish, pickups and hardware.
Conceived and adjusted in France but made in Korea, SR guitars play in a price segment that is slightly higher than Epiphone (the Gibson sub-brand for those who don't follow…). Are they a waste of time or a real alternative to what is already out there?
Specifications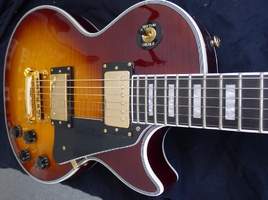 I got two SR guitars: the Origin, which recalls an LP Standard, and the Luxe version based on the LP Custom. SR offers you the possibility to choose the looks of your guitar: color of the plastic parts and hardware, pickup models (from the generic pickup manufactured for SR to the Seymour Duncan), tuners… The two models we reviewed are standard products without any extras. Both nice-looking guitars have 22 classic jumbo frets, a massive mahogany body, a typical three-piece mahogany neck with C-profile, effective Groover tuners and typical LP electronics: two humbuckers, three-way toggle switch, two volume and two tone controls. The added value is that the volume knobs are push/pull pots allowing you to split the pickups to get more tone variations — seven altogether.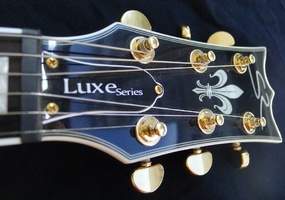 On the Luxe version (the classy one) you get an ebony fingerboard, a pair of 50's vintage-type Alnico 2 pickups, a flamed maple top, a triple binding from the bottom to the top (the Origin has only one single binding), and gold hardware. For the Origin, SR chose two Alnico 5 pickups (for a more modern sound, late 70's we could say) with more output level, a rosewood fingerboard, a simple maple top with Tobacco Burst finish, and chrome hardware. Up to now, everything is coherent and respectful with the tradition. The weight of the guitars is well thought-out, neither too heavy (as some real LPs can be) nor too light. Good job! The only feature I don't like is the headstock's design. It looks too Batmanish or like a cheap royal crown (only later did I see the fleur-de-lis, the symbol of the French monarchy, on the headstock of the Luxe version!). But this is a subjective matter and one can easily understand that SR is only trying to distinguish itself from the Kalamazoo boys to avoid any legal trouble.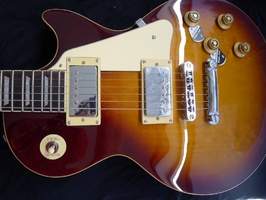 Knock on wood. It resonates and it's beautiful. You could say it is "pro." Unplugged, the output volume, long sustain and wide dynamic range of the Origin really surprised me. This is a very good sign. I had a lot of fun playing (for quite a long time) this guitar before plugging it to any amp. When choosing an electric guitar it's essential that you like playing it before connecting it anywhere because the acoustical resonance of the instrument plays an important role in the overall tone. Every single good or bad thing that you hear might be audible after passing through the amp. I made this same mistake not a long time ago: I bought an LP copy from a fully unknown brand by mail order because it had great looks and promised to sound like a '59. I know some of you are already laughing. Unfortunately, this guitar was not "vivid" like the Origin I held in my hands for this review. In this matter, the Origin is a success. And this was confirmed when I connected it to an amp: the tone is very well balanced, controllable and very responsive. I could hear all nuances and details of my playing regardless of whether the sound was clean or distorted.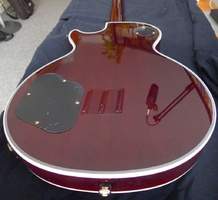 The tone has that twangy mid-range tone you expect from a good LP. Both Alnico 5 pickups reproduced all the resonances I had heard and liked so much when unplugged. The pickups pair is consistent and seems to be better suited for "dirty" rather than clean sounds, due mainly to their output level, which is higher than on classic PAFs. The Alnico 5 SR bridge pickup reproduces the slapping character in the mid range regardless of the drive setting. The neck pickup sounds a bit too dull and has a slight lack of brightness, which reduces its impact when the distortion increases. With both pickups at the same time, the sound starts to sing and we can easily recognize the typical sound of an LP with well-balanced pickups. I find the push/pull feature of the knobs is neither very useful nor very versatile. Humbuckers conceived for this application are quite rare. On the SR Guitars website, under the "setup wizard" area, you'll find a (disabled) tab that gives you access to a variety of wiring options. Maybe this push/pull feature would be more powerful if it was wired as a series/parallel switch rather than as a coil splitter for the pickups, in which case the result would be a single-coil tone with less signal loss. Tuning stability was fine and I didn't find any craftsmanship issues. All areas of the neck are easily accessible. In short, I had lots of fun playing this SR, which delivered good results in every music style.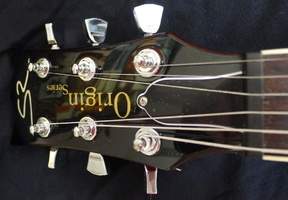 The Origin is certainly not Pearly Gates and cannot be compared to a real vintage instrument — nor can its price. However, it seems to me that it easily surpasses all other cheap LP copies on the market. We cannot know for sure if this specific instrument is an exception whose "wood received the right amount of glue at the right time" or if the whole series delivers the same results. It's impossible to know! In short, this Origin has everything a great guitar should. Listen to the sound samples (recorded with a JCM 900 combo and a Two Notes Torpedo VB-101) to make your own opinion. Clean, crunch and high gain with all pickup combinations:
SR Luxe (LP Custom type)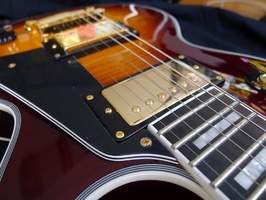 The Luxe I held in my hands had not been adjusted properly… And since I didn't had the necessary tools to improve the adjustment, I had to play it like that! The action of the strings was too low, which resulted an audible loss of dynamics. The main differences (meaning they have some influence on the sound) with her more affordable sister are: ebony fingerboard, 50's-type pickups, maple top with a thin layer of flamed maple. The ebony, which is a very hard wood, produces a more slapping, sharper and colder sound than rosewood. We also have to mention that the Gibson Les Paul Custom was conceived for jazz guitarists when it first hit the market: smaller frets for faster playing and higher weight, even too high like the '71 "Fretless Wonder" I used as comparison to review the SR Luxe. No small frets for the latter indeed. The spirit of the SP Custom is present. The guitar is not as wild as the Origin, the output level is lower, and the frequency spectrum of the Alnico 2 pickups is contoured around the mid range. I find this pair of pickups is more suited for low gain levels: all three pickup combinations sound pop and jazzy. I was a bit disappointed by the bridge pickup, which is rather difficult to control in lead mode because its hollow response doesn't quite work for nice distortions. No reproach for the neck pickup: the Alnico 2 has a "vintage" output level and allows you to play chords over the full neck without any note disappearing. The Luxe would certainly benefit from an unmatched pair of pickups… Why not an Alnico 5 on the bridge, and for the same price? When split, the Alnico 2 SR pickups lose much less level than the Alnico 5, making the coil split feature much more interesting than on the Origin. However, I didn't find the vivid character of the latter in this Luxe. I couldn't make it sing and I couldn't play it longer than the necessary time for a first contact and to record the sound samples. The Luxe is not a bad guitar but it wouldn't bear comparison with the Origin. Perhaps it didn't benefit from that miraculous touch which can make an instrument aimed at being identical to dozens of others become Pearly Gates, Blackie or Lucille. Below you'll find some sound samples of the Luxe in clean, crunch and high-gain mode, using all pickup combinations to give you a good overview:
Conclusion
Just another LP? For whom? Considering its price (€449; and €559 for the Luxe), this guitar is much better than a standard Epiphone, for example.
For a professional musician, the Origin could be ideal as spare instrument. For a first "real" guitar, it might be perfect. It is versatile and easily playable, and the hardware seems to be reliable and well thought-out. I can already see kids breaking their piggybank and spending quite some time with the "setup wizard" on SR's website to select the pickups, the pickguard color, etc. Especially since the list of available options should become more and more comprehensive as time goes by. At the time of writing, only SR, SP Custom and Seymour Duncan pickups are available. However, the manager of the company mentioned that, depending on feasibility, pickups of other brands could be added to the list. For several years now, Korea seems to have become an important country for guitar manufacturing with increasing quality (just take a look at Kraken, for example). So why not take advantage of the collaboration between a French designer and a serious Asian manufacturer to guarantee a high-quality, affordable product.
So, to wrap it up, SR has become a new candidate for the best LP for the poor with a guitar that has a sturdy design, a really good sound and a very appealing price. And it's a good thing because the real LPs (for the rich) have become scarce. By the way, do you know how to recognize a rich guy? He's the one surprised to see poor people spend so much money.
SR also offers other LP variations: the Study (€339; reminds an LP Junior with only one P-90) and the Roots (€389; a sort of LP Studio with massive mahogany body without top and maple fingerboard). The outcome might be interesting.