AKG B48 L Phantom Power Box
AKG introduced the new B48 L box which provides condenser microphones with phantom power.
Powered by two AA batteries, the AKG B48 L will provide the necessary 48V power to condenser microphones when, for instance, no phantom power is available on the mixer. The little black box is equipped with XLR input and output as well as a mini-XLR output. AKG provides a mini-XLR cable for use with the brand's belt pack transmitters. 2 LEDs will help you check the phantom power and battery status.
Dimensions: 123 x 65 x 28.5mm
Weight: 120g
No information regarding the price of the B48 L, full details are available at www.akg.com.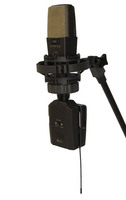 Viewers of this article also read...