Acoustic Inspiration KARMA-fied Sounds for Korg M3
m3styles releases Acoustic Inspiration, a new KARMA-fied sound set for Korg's M3 Workstation, including acoustic styles not available before.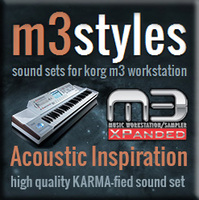 The Acoustic Inspiration sound set contains 32 Combis for the Korg M3 in a variety of styles not represented in the factory set or other 3rd party sets. Each Combi is programmed with KARMA function.
Acoustic Inspiration includes a variety of music styles – soft piano, organ and guitar ballads, 8 beat, 6/8 ballads, rock/progressive, jazz, funk, hip hop, acoustic ballads, unplugged, blues, bossa, waltzes, soundtrack and movie.
KARMA modules and scenes: Each of the Combis uses all 4 KARMA modules and is programmed with 8 different scenes, simple to complex.
Programmed realtime controls: 8 sliders, 8 switches, joystick, ribbon, XY Pad, 8 Real-time knobs /sliders and 2 switches.
Pricing & Availability:
Available now at: $24.99 on m3styles.vze.com.
A three minute Video Demonstration has been produced showing a Combi walkthrough and KARMA capabilities: view it on YouTube.
Viewers of this article also read...