CorSynth launches a Lo-Fi module
The C105 is a voltage controlled sample reducer and Lo-Fi sound generator equipped with a white noise generator.
This new CorSynth module is based on a Sample & Hold function that works with an internal clock (250Hz - 40kHz) which can be voltage controlled. Two FM inputs, including one with a reversible attenuator, allow for creating digital effects ranging for sutil to extreme Lo-Fi sounds.
The white noise generator combined to the Sample & Hold can create drones, sound effects or synth rhythms.
Last, a first order passive high-pass filter is included with its own output.
Price: 165€ excl. VAT
More info and audio demos are available at corsynth.com.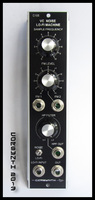 Viewers of this article also read...