Traktor DJ available on the iPhone
Following the iPad version, Native Instruments announced the availability of its Traktor DJ app on the iPhone and iPod Touch.
The GUI has evidently been revised, but you'll find on Traktor for iPhone the same features as on the iPad app, including the 8 effects, the 3-band EQ and the filter section.
Traktor DJ for iPhone displays two decks simultaneously and you can use the slider to adjust the waveform sizes. It is also possible to loop, scratch, create cue points and browse both the iPhone and Traktor sound libraries.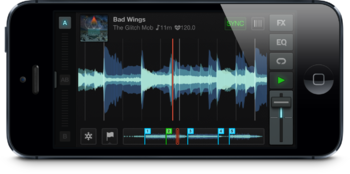 Advanced functions such as Freeze mode or Beat Grids creation are also included and you can transfer beat grids, cue points and BPM to Traktor Pro via Dropbox.
The iPhone version is compatible with the Traktor Audio 6 and 10 audio interfaces or any other class compliant interface.
Traktor DJ for iPhone is available for $4.99 on the AppStore.
Viewers of this article also read...