Freeware
UVI offers a Mellotron sample library
UVI adds a Mellotron sound library to its Vintage Corner, that can be downloaded for free.
Mello takes you back to the classic sampling sound of the 60's. UVI multi-sampled the original tapes of 3 different machines plugged to the instrument to record each note. You'll find in the library the 28 available sounds (brass, celesta, cello, organ, guitar, strings, flute, oboe, vibraphone, sax, piano, viola and more) as well as stereo recordings of the key noise and inner mechanical sounds, including tape noise and key-off, which can mixed with the instrument samples.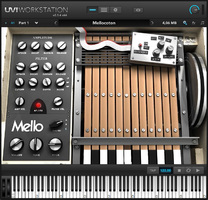 Plus, UVI added an analog-modeled tape delay, the SparkVerb, a custom unison mode for stereo sound, a switchable multimode filter with cutoff and resonance, a 3-band EQ, ADSR envelopes for amplitude and filter with velocity sensitivity and you can choose between original or extended keyboard range.
In total, Mello offers 12 presets and more than 2000 samples in 44.1kHz (recording at 96kHz). It requires an iLok USB dongle and the UVI Workstation 2.
Mello can be downloaded for free from www.uvi.net but you'll need to like UVI on Facebook or Twitter.
Viewers of this article also read...