The market of guitar stompboxes is quite saturated — competition is hard, manufacturers fight against each other with new controls and serial numbers. While I was reviewing a Blues 3000, I got the features of my next mission: handcrafted, overdrive, versatility. When I saw these three words together, I jumped into my mustang and headed out west.
Time to Play!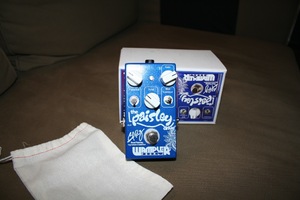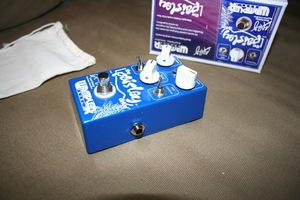 It's time to play. Armed with different guitars I'm ready for some new adventures! First good thing: the stompbox has a true bypass. But the footswitch is too close to the controls (you can hardly put your thumb between them). If you have long feet or big boots, avoid the selectors and the Tone control.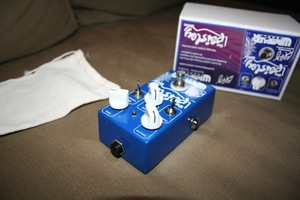 I set Drive to 3, set the same volume as on my amp, turn Tone halfway, put the Mid Contour in center position and disable Presence. Result: the sound is slightly crunchy. The stompbox produces a warm and natural sound with a lot of lows and low-mids. I turn up the gain control to 5 without changing the other settings and I get a typical tube sound perfect for country rhythm parts. The unit produces a lot of low frequencies, even with the bridge pickup. That's the reason I enable Presence to get a bit more brightness. With the switch in center position, the high-mids are attenuated while the low-mids are emphasized.
I turn the gain control back to 0, switch the Mid Contour to low and disable Presence. In low position, the Mid Contour emphasizes the mid frequencies of the instrument. The Gain allows you to use the stompbox as a booster — and it sounds wonderful! Ideal as arpeggio booster. I increase the Gain a bit. The sound color reminds me of an OR50 amp. In order to keep a good relationship with my neighbors, I crank up the volume and play a typical British riff. Let's try out the last Contour position: it's a perfect mix between both previously described settings, so it gives a rich range of sound colors. The other controls are linear and sensitive; they interact with each other and make setting the pedal quite pleasant. Regardless of what you feed into it — single coil or humbucker pickups, hollow body guitar — this stompbox always sounds great!
Stratocaster – Bypass

00:22

Stratocaster – Gain 6 – Tone 6

00:22

Telecaster – Bypass

00:22

Telecaster – Gain 7 – Tone 7

00:22

335 – Bypass

00:22

335 – Gain 5 – Tone 5

00:22

Les Paul – Bypass

00:22

Les Paul – Gain 5 – Tone 6

00:22

Les Paul – Gain 5 – Tone 5

00:22

Les Paul – Gain 7 – Tone 4

00:22

Les Paul – Gain 5 – Tone 7

00:22
This Paisley signature stompbox was a lot of fun. Tears fell from my eyes when I took it back to AudioFanzine's editorial office.
Shall I Buy It Or Not?
Wampler presents an excellent product. The midrange selector is a real delight; it makes the stompbox versatile and allows you to play almost any music genre, unless you're a metal head or you're looking for heavy distortion. The stompbox produces a natural, warm sound reminding a tube amp. With its sturdy construction, you can take it with you onto any stage. Unfortunately, hand-crafted quality has a price, and in this case it's $220. But, if you love it…