Musician's Guide Map is a search engine of instrument makers and music stores around the world, complete with mapping and comments.
Using GoogleMap, the site references luthiers and instrument stores with detailed coordinates, and information about instruments that were repaired, sold or manufactured, among other elements.
Designed for travelling musicians, the site comes in two languages (French and English) with various search parameters and filters.
Basic, free registration (nickname + email) gives you access to videos, photos and data sheets. You can create forms, edit your comments, rate elements, add video links and photos…
Being a French initiative, most of the content at this point is European-centric, but its scope should be expanded by future users contributions.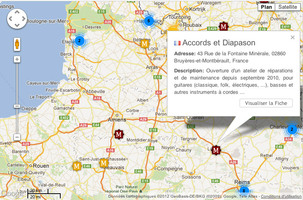 Posted on 10/22/2012 at 02:14:58

Actually, You can filter between 200 instruments and there is more than 730 addresses registered.
Viewers of this article also read...