Compact tube amps are definitely "in" nowadays. They are conceived to provide a classic sound in spite of their affordable price and compact dimensions. So, when Eagletone decided to launch a small 5-watt tube amp head for €179, we couldn't resist plugging in our guitars...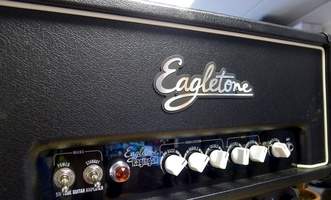 The last couple of years, many manufacturers like Orange, Mesa Boogie or Jet City have launched compact and low output all-tube amp heads. And if manufacturers are adding such amps to their catalog, it means there is a consumer demand. Why? Because they provide several advantages: they are easily transportable, they use all-tube technology, which normally means a nice sound, and they are rather affordable (except for the Mesa products!). That way, any guitarist can go to rehearsals with his own guitar and amp head, which are responsible for his personal sound print. Small amp heads are also nice to play at home: their low output power allows you to turn up the volume knob without disturbing your neighborhood (excessively), thus getting the best out of the tubes. And all guitar players know that amplifiers sound best when fully cranked (or almost).
For all these reasons, we were eager to unpack the Eagletone amp — a Woodbrass brand. Woodbrass is a French dealer that sells guitar gear, headphones, saxophones, electronic and acoustic drums, clarinets, violin bows, etc. In other words, everything that makes noise!
The first good news is the light invoice: €179 (and sometimes even less if you catch a promotion). The price is quite impressive for an all-tube amp head. Let's see if the performance of the Raging 5H is as good!
Not a Big-Headed Amp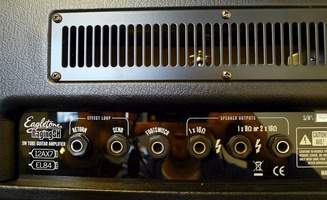 The size of the Raging 5H is somewhat big for its output power: 17.3" × 9" × 8.7". Thus, the head is bulkier than the BlackHeart BH5H (even though they have the same output power). It weights 17.6 lbs, which is less than the BlackHeart (20.9 lbs). The finish is pretty good, although it is not as neat as the BlackHeart: the knobs look less sexy, there is no fabric covering and the vinyl covering is too sleek.
When you turn the amp around, you'll discover several connections on the rear side: a mono FX loop, which is a great feature for this price, and a connector for the footswitch provided. The footswitch has only one switch for channel selection. Yes, you read well: this €179 amp features two channels. But let's go back to the rear panel with its pair of speaker outs for one or two 16-ohm speaker cabinets, or one 8-ohm speaker. Note that Eagletone also sells a 10" speaker cabinet especially conceived for this amp head.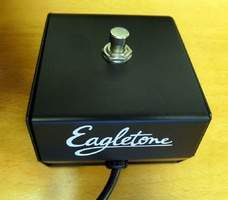 The amp includes two different tubes: one 12AX7 preamp tube and one EL84 power tube. It couldn't be simpler!
Now, let's take a look at the front panel controls.
Everything is kept simple: power and standby switches with a nice-looking red light, a guitar input and a row of controls. The three-band EQ (bass, mid, high) is common to both channels. A small switch allows you to select the active channel. The clean channel features a single level control while the lead channel provides gain and level settings. Two LEDs indicate the active channel.
And that's it regarding controls. Simple, isn't it?
Now, let's plug in and start recording.
Rage Against the Transistor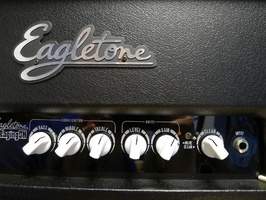 We used several guitars for the sound samples: a Gibson Les Paul, a Fender Stratocaster and an ESP Kirk Hammet for distortion sounds; and a Stratocaster, a Telecaster and a Gibson 335 for clean sounds. We also used our Two Notes Torpedo to record the sound samples.
Let's start with the clean sound: we noticed that the EQ is not that effective and didn't allow us to shape the sound the way we wanted to. The Mid control is almost useless while the bass control has no action beyond a certain position. This means that you depend on the sound of the amp and the guitar! Luckily, the Raging 5H faithfully reproduces the sound of the instrument (just listen to the 335 and the Stratocaster!). Given this, we strongly recommend to try out or listen to the amp before buying it. Generally speaking, the clean channel could sound a bit fuller with our Fender guitars, but it is still usable. You can easily go from jazz to funk and everything in between depending on the guitar and the pickup(s) used.
The distortion sound was quite convincing. The gain control is very sensitive: it changes very quickly from crunch to ultra distortion, so you'll have to be patient and accurate! With our Les Paul, the amp produced a really nice blues rock tone considering the price. The Raging 5H can achieve very good metal sounds as well, without being extreme. It's interesting to notice that the amp reacts very differently with the Les Paul or the ESP with active pickups. However, both instruments produce satisfying distortion sounds.
Les Paul Chevalet Metal

00:18

Les Paul Chevalet Blues Rock

00:22

Strat Chevalet Blues Rock

00:20

ESP KH Chevalet Metal

00:19

Strat Manche Arpege

00:24

Strat Manche Jazz

00:14

Strat Pos2 Funk

00:16

Telecaster Manche Clair

00:22

335 Manche Jazz

00:13
Conclusion
It's Eagletone's turn to introduce a small all-tube amp head with several advantages: a very low price, two channels, a footswitch, an FX loop, and enough versatility. The sounds we were able to get out of the amp head were quite usable, and even if the settings aren't convincing enough, they do exist. Competitor products are not always so comprehensive: they have only one channel, no EQ or no FX loop… Except for the lack of reverb, we can't criticize this amp. A good deal for guitar players looking for an affordable, compact practice amp with a good sound.