The Traktor Audio 2 interface now supports iOS
Native Instruments updates its Traktor Audio 2 interface so that DJs can now use it with their iOS devices.
The new generation of Traktor Audio 2 audio interfaces can now be used with an iPhone, iPod Touch and iPad.
The Traktor Audio 2 is a 24-bi / 48kHz audio interface that offers to 1/8" stereo outputs and a USB port. It ships with two mini-USB to USB and iOS 30-pin to USB cables. If you use the latest generation of Apple Devices, you will need a Lightning adapter, which is sold separately.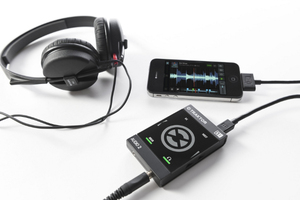 The Traktor Audio 2 also ships with the Traktor LE 2 software, note that iDevice owners will be able to use the Traktor DJ app.
The interface is available for $99 / 99€ and a 50€/$ e-voucher will be sent upon registration of the Traktor LE software. More info at www.native-instruments.com.
Viewers of this article also read...