Special price
40 % off the Zvork Noxious Rack Extension synth
Through May 1st, Zvork offers a 40 % discount off its Noxious virtual additive synth for the Propellerhead Reason DAW.
During this Spring sale, you can purchase the Noxious Rack Extension for the price of $49 instead of $79 at shop.propellerheads.se.
Noxious is an additive polyphonic synth with ease of use and nice sound experimentation capabilities.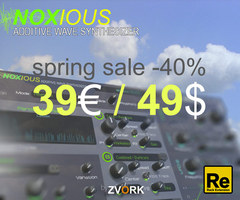 Viewers of this article also read...