Ilya Efimow releases the Modern Bass sample bank
Ilya Efimov adds to its sonic arsenal for Kontakt an emulation of a five string "studio custom" bass manufactured by canadian F-Bass.
Ilya Efimov sampled for Modern Bass every note on every string of the bass, with 12 dynamics. The instrument was played using several techniques and articulations: fingers, slap, palm-mute, hammer-on, pull-off, glissando, vibrato, slide, flageolet (artificial and natural, with 2 velocity layers and 4 sounds per string for the natural flageolet), legato...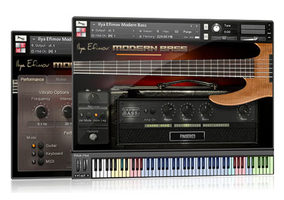 A Repeat Note function will repeat the last played note or chord, with corresponding articulation. A built-in algorithm will automatically choose the most appropriate string and position on the fingerboard in real time. Manual selection is also possible. The virtual instrument also includes a chord detection feature.
In total, Modern Bass includes 3941 samples (24-bit / 44.1kHz) and requires the full Kontakt 4.2.4 and 5 versions. You can listen to audio demos on www.ilyaefimov.com.
Viewers of this article also read...