FXpansion BFD3 is available
Following the announcement this summer, FXpansion launched the third version of its BFD virtual drums.
BFD3 features 5 new drum kits, for a total of 7 kits and 118 parts, one of which has been recorded in a different studio with three versions (sticks, brushes and mallets).
New articulations have also been added: snare rim click, hi-hats splash and bell tip and tom rim shot and rim click.
The GUI in BFD3 has been revamped and can now be resized horizontally in order to display the mixer, the effect slots and the groove editor. The browser, now permanently available on the left side, replaces the pop-ups in v2 ; Kit and Mixer pages were merged, while the Drum Editor (previously Kit-Piece Inspector with advanced editing options), is located on the right and can be hidden if needed.
BFD3 includes a new Drums saving system with effect and mixing settings, which can be activated via the Processed button.
The Drum Editor now shows on two Tech and Model tabs. You'll find new dynamics/volume controls (Range, Curve), a humanization feature that prevents from generating machine gun effects, with two Loudness Variation and Tone Variation modes, and you can adjust and save the Choke fades with each kit, presets and processed Drums. FXpansion also offers cymbal swell, tom resonance and spill (for microphone leakage) modeling.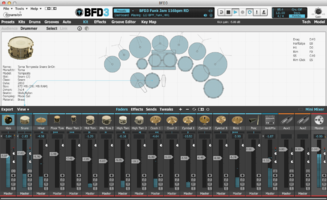 The Mixer has been enhanced, and now includes advanced microphones settings, multiple views for the channel tweaks, effects and sends, along with a default fader view. A dedicated metronome channel is now present, as well as an external sidechain input for using external signals.
Last, BFD3 includes new effects: FXverb (algorithmic reverb), 8-band EQ and the DCAM EnvShaper and Distortion. 1000 new groove presets were added, courtesy of Platinum Samples.
Also note that FXpansion changed the key map and automation systems and a new .BDFLAC proprietary lossless compression format is now used.
BFD3 is available for 269€, the upgrade from BFD costs 155€ (on USB 2.0 flash drive) or 115€ (download). You will need Windows 7/8 or Mac OS X 10.6.8 and later to use it and that, along with the VST2, VST3, AU, RTAS and AAX plug-in formats, a standalone version is also available.
Full details and audio demos of this new version are available at www.fxpansion.com.
Viewers of this article also read...