Impact Soundworks introduces ReForged
ReForged is a new metallic percussion sample library for sound designers who work with Kontakt or any WAV or Rex2-compatible sampler.
ReForged features more than 1 900 samples from real metallic objects and synthetic creations. Real objects include an old cooker, metal shovels, rakes, a tin bath, gas canisters and more, found in a shed within the quiet countryside of South Wales. The instruments were hammered, struck, tapped, and resonated using a wide variety of both conventional and not-so-conventional techniques, and recorded by Ali Lacey.
The "synthetic" part includes rhythmic loops, glitches, cinematic impacts, textures, atmospheres and more.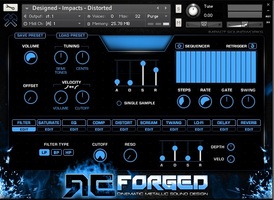 Kontakt users (full version required) will find in the custom GUI an effect rack, a sequencer/gater as well as 30+ effect presets.
ReForged is available for the introductory price of $119 instead of $139 for a limited time at impactsoundworks.com. Impact Soundworks gives you a taste of the library with a free sampler and sounds from the collection that can be downloaded for free.
Viewers of this article also read...