Kurzweil extends its K-Sound contest
If you did not have the time to finish your video for the K-Sound contest, Kurzweil gives you one more month to do it.
Due to the large number of submissions, Kurzweil has decided to extend its contest so you can post your video until December 31st.
Participation details and modalities are available in the previous news. Three winners will receive a Forte, PC3A or Artis SE keyboards.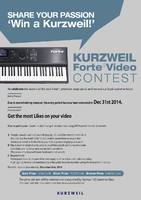 Viewers of this article also read...