See all NAMM Show 2013 news items »
We found the Kawaivpc.com website where Kawai announces a true piano that will be able to control virtual pianos on your computer.
On the picture that we reproduce below, we can see that Kawai has partenered with the virtual instruments editor Pianotheq, Synthogy and Galaxy Instruments to announce a true and full piano able to control virtual instrument through a USB connection. Based on what we can see, the name of the piano could be VPC1 (for Virtual Piano Controller 1 ?).
We'll still have to wait for a couple of days to discover this new piano. You can now visit the www.kawaivpc.com website.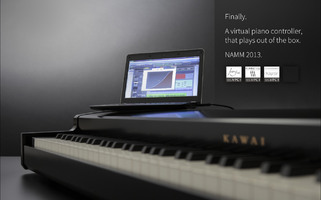 Be the first to post a comment about this news item
Viewers of this article also read...