See all NAMM Show 2013 news items »
Kawai confirms the launching of the VPC 1 MIDI and USB controller for virtual pianos, with the look and feel of a real piano.
We announced it just before NAMM (see that news), indeed Kawai came to the show with the VPC 1, a MIDI controller that looks and feels like a real piano, with 88 weighted keys, three pedals, but the main difference is that it doesn't generate any sound by itself. It can only be used to control virtual pianos (or other instruments), and Kawai partnered with Pianoteq, Synthogy, Galaxy Instruments and Native Instruments (it's already compatible with Alicia's Keys, with more NI virtual pianos to follow).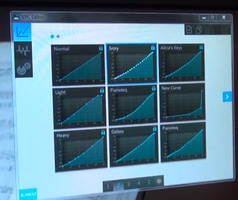 The VPC 1 is equipped with MIDI and USB connectors. It will ship with a software editor designed to set up the "Touch Curves" (custom profiles for the different pianos), the USB and MIDI routings and the three pedals that will ship with the instrument.
We still don't know the price nor the availability of the VPC 1.
Following is a special presentation of the VPC 1 to our team at NAMM:
Be the first to post a comment about this news item
Viewers of this article also read...