Hot news
ROLI unveils the Seabord GRAND instrument
ROLI a new London-based company, unveils today the Seabord GRAND, a new instrument and keyboard controller equipped with a 3D sensor interface.
The Seabord GRAND replaces the usual piano keys with a patented SEA interface equipped with sensors that will allow real time control of the pitch, volume and timbre. ROLI adds that the SEA interface is under development for other musical, computer, robotic applications and more.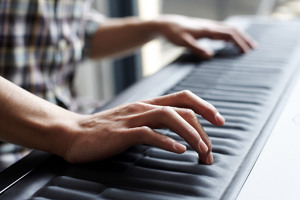 The Seabord GRAND, as a controller, can emulate various instrument techniques such as guitar bends or string swells.
A limited edition of 88 Seabord GRAND will be available for pre-order on April 2013. The price is still to be announced. Discover the controller on www.weareroli.com.
Viewers of this article also read...