View other reviews for this product:
azraik
« 
Small, but Mighty

 »

Published on 04/04/15 at 15:06

Value For Money : Correct

Audience: Beginners

At a Glance

With the massive expansion of home studios in the past decade, there has also come a massive expansion of products for home studios. One essential ingredient to a delicious home studio soup is a good set of studio quality monitors. Why?

Is there something wrong with the headphones I'm using

? Probably not.

Will my recording mix sound bad if I don't use monitors

? Not necessarily.

Can a good set of studio monitors improve my overall mixing experience, thus improving my mix

?

Absolutely

.

Ask any seasoned home studio or professional engineer about the importance of a good set of monitors, and you'll likely hear a lecture about the importance of monitor selection, room placement, acoustic treatment, and a handful of other complex tips and tricks. There is a plethora of brands and models to consider for your set up, and you may find it worthwhile to consider a reliable name such as JBL. The same JBL that has a history of producing some of the world's greatest audio solutions and loudspeakers has joined the market for home studio set ups by releasing the JBL LSR305 (5") and

LSR308

(8") studio monitors. For the sake of this review I will specifically cover the LSR305's, which may be smaller, but pack just as much of a punch in the studio.

Small, but Mighty

On the spectrum of entry level studio monitors, the JBL LSR305's fall on the smaller side, weighing in at just 10 lbs per speaker. They feature a small, but formidable 5" woofer, and

standard 1

" tweeter, combined for a total of 82 watts of power. They are active and include a separate power cord for each unit, and there are inputs for both XLR and balanced TRS connections. Additionally, they each feature a 2dB boost and/or -2dB cut for the low and high frequencies--helping to tailor the sound to different environments. The build materials are not necessarily top notch for the price, but their innovative design is what makes up for the lesser build quality. Price-wise they will cost $150 each, or $300 for the pair, if purchased brand new. They are certainly not the cheapest set of monitors, but are not nearly as expensive as other "high-end" options.

For the price, build quality, and sound accuracy, the LSR305's are definitely a beginner to intermediate choice for any home studio set-up, and practically speaking they are designed for smaller studio environments given their size and power.

In the Studio

As with all of my home studio equipment, I research as much as possible before I commit to buying new equipment (because, quite frankly, I cannot afford to buy new gear most of the time). I knew that my small budget would be somewhere between $200-300, but I wanted to invest in some speakers that would last a while. I looked into popular names like M-Audio, Yamaha, Alesis, PreSonus, and several other brands. I eventually discovered the JBL LSR305's, and looked more seriously at them for a few reasons:

1) They are compact, but have more than enough power for my small studio.

2) They are equipped with and adapted version of JBL's legendary 'waveguide' technology (I'll explain this in a minute).

3) JBL is a reliable name with years of excellent product experience.

4) I found a pair that fit my budget.

Once I finally settled on trying the LSR305's, I bought them and set them up in my studio as soon as I could, and the results were nothing short of impressive (especially because I had only ever mixed with headphones in past). They are not overly bass heavy, the highs and mids come through loud and clear, and they have plenty of juice if I choose to listen at higher volumes.

According to JBL, this excellent listening experience is largely in part because of the 'waveguide' technology that is incorporated into the speakers. The waveguide design, which can be seen surrounding the high frequency tweeter, helps to improve the overall experience by broadening the perceived frequency range of the projected sound. This design also makes the frequency projection more consistent as you position yourself throughout your studio. You can literally stand up and walk around your studio room and the perceived sound coming from the speakers will only vary slightly. With most monitors it is ideal to create an equilateral triangle between the two monitors and yourself, and stay in that position (as demonstrated by the image below).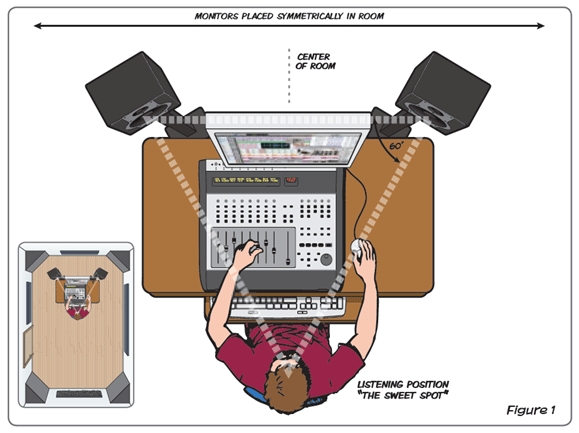 Image provided by Avid, via www.homestudiodawg.com
With waveguide technology, you can break the rules--at least a little. You have the freedom to move around and still have a similar listening experience from different positions throughout the room. Of course, it is still ideal to default to the equilateral triangle position, which is where I have personally heard the best results, but the flexibility to move during long mixing sessions is an extra 'perk' of using the LSR305's.
Note: Every studio space is different, and the specific design of these speakers

will not

make up entirely for a poor set up or lack of proper acoustic treatment. Do your research, take the time to position the monitors properly, and they will perform very well for you.
I have also experimented with the 2dB boost and cut settings during the course of using these monitors, and there is a noticeable difference among each combination of settings. This added feature has been very helpful in tailoring my monitors to my home studio space (which is less than ideal, since I'm currently stuck in the corner of my room).
Bottom-Line
For an affordable pair of studio monitors, the JBL LSR305's make a great addition to any home studio set up. Make no mistake, these are not high-end speakers that will last for decades to come. But if you're on budget, these monitors are a good choice for overall design and sound quality in your growing home studio.