See all NAMM Show 2013 news items »
Apogee announces Symphony 64 | ThunderBridge, 64 channel interface with 2 Thunderbolt ports for Symphony I/O, Rosetta and X-Series.
Apogee introduced last year a one-port version of the Symphony 64 | ThunderBridge interface. Symphony I/O, Rosetta Series, and X-Series converters with Mac OS X user will benefit in february 2103 from a new version equipped with 2 Thunderbolt ports.
Specifications :
Connects up to 64 channels of Apogee I/O to any Thunderbolt- equipped Mac (MacBook Air, MacBook Pro, Mac mini, and iMac)
Operates at sample rates from 44.1–192 kHz
Compatible with Symphony I/O and X-Symphony-equipped Rosetta 800, 200, AD16X and DA16X.
Latency : 1.8 ms at 96kHz/32 buffer
2 Thunderbolt ports for connecting additional devices
2 PC-32 ports for connection to Apogee interfaces
1 Word Clock Out
DC Input – 12V DC 30W (power supply included)
Status LED to indicate whether or not the device has been configured properly
Price : $995
More details soon on www.apogeedigital.com.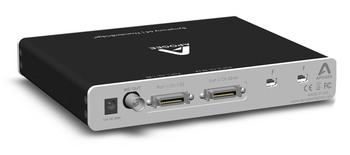 Be the first to post a comment about this news item
Viewers of this article also read...