The Harrison 950m sports an analog design incorporating modular design elements found across a range of older Harrison console such as the 32 Series, MR Series (2, 3, 4, 5 and 7), SeriesTen, SeriesTwelve, MPC and LPC.
Features


Double sided PCB's
Manual PCB layout
Ground plane design
Linear power distribution
Gold Euro-card module connectors
Gold plated switches
Conductive plastic potentiometers
Through-hole design
All I/O is balanced
Summing buses carried via PCB's (no ribbon cable summing buses).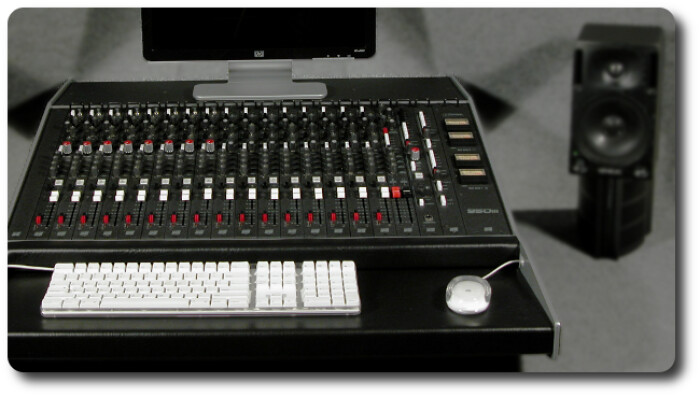 The Harrison 950m provides a 2-tiered front bolster which is wide and deep enough to locate a DAW keyboard and mouse or trackball (with sufficient cable access). A flat top is designed for locating DAW monitor/s and/or small speakers. The 950m module area is supported at a 15 degree pitch providing viewing access and control above your keyboard, mouse, and DAW control surface(s).

Input Channels
Insert points on every input
48v (Mono Only)
Direct Out (Mono Only)
Switchable HP + LP Filters
3 Band "Tone" Controls
Pan / Balance
Input Selections
Input Gain Controls
4 Mono Aux Sends
Channel ON
Solo
104mm Fader
Mix Bus Routing
LED Input Meter
Master Section

Mix Bus 1 compressor
Mix Bus 2 Compressor
Oscillator / Talkback Assignments
Aux Send Masters
Mix Bus Master Faders
Stereo Mix Bus 1 & 2 VU Output Meters
Monitor
Oscillator
Monitor Sources
Headphone Level
Speaker Level
Monitor Solo Listen
Monitor Mono
Monitor Mute
Talkback Microphone
Talkback Level
Talkback Enable
Headphone Jack
Studio
Studio A Source Select ( Osc, Aux 1–4, Mix Bus 1/2 )
Studio A Level/Mono/Mute
Studio B Sources
Studio B Level/Mono/Mute
Studio Talkback Assignments
XLR Outputs
Stereo Mix Bus 1 ("Black") Electronically-balanced Output
Stereo Mix Bus 2 ("Red") Transformer-balanced Output
Mono Aux 1–4 Output
Stereo Studio A output
Stereo Studio B output
Stereo Solo bus output
Stereo Control Rm Output
Mono Oscillator Output
Back Panel
External Linear DC Power Supply
XLR Mic Inputs / Main Outputs
"D" Sub Line Inputs / Outputs (Tascam pinout)
Additional Connections:
Mix Bus A & B Stereo Insert point
Master Logic ( Talkback, Mutes, and fader VCA connections )
Frame
15 Degree Module Pitch
Full Size Keyboard Space
Flat Top Monitor Shelf

Pricing:
12-track: $8 803
16-track: $11 941
24-track: $13 629
Mono Mic/Line Input Module: $1007
Stereo Line Input Module: $1085
Visit www.harrisonconsoles.com for more details.
Posted on 04/05/2011 at 09:53:21

Not cheap but Harrison has a great reputation amongst pro engineers, very interesting looking console.

online mastering
Viewers of this article also read...