Do you feel like a cowboy? Do you like the smell of ponies and old leather? Do you like riding on a weird mount and sweltering under an old stinking hat?
Me neither! Personally, I'm more of a take-the-law-into-my-own-hands kind of bass player, a guy who isn't put off by anything except effort, and who has enough respect for stallions and bulls to avoid them. Even on an early Sunday morning after having spent a full night playing a drunk upright piano in a saloon. My Bronco is a Fender. It eats no oat but it surely spits 40 watts of power when you give it a bass guitar to chew on. Let's go — or as they used to say in the old west: Yeehaw!
Small Pony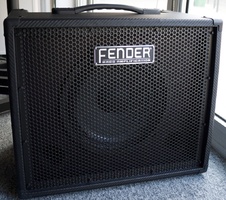 It's so gray and small… And after all, it isn't so tiny: it's the size of a 20-liter bourbon barrel (11.25"×18"×15.25") and weights 30 lbs. It looks pretty sleek: dark gray vinyl covering, black metal grill, only eight controls and three flashing buttons. You could almost walk past the amp without noticing it, like if it were a marmot crossing a valley. In short, it's one more combo in a product range that already includes a dozen. Fender's range even includes a 75 watt amp at almost the same price: the Rumble 75.
So, why should I buy an amp with less output power and a 10" instead of a 12" speaker? Do they think we bass players from the west are all dumb deadbeats?
"Now, hold ya horses, " says the sheriff, "yuh're wrong, kid! The Bronco ain't one of 'em combos like all others. Ptooie!" (that was the sheriff spitting…)
– Really? What's in for me then? If I wanted to give my money away, I'd rather play poker in the saloon…
– Why, son, with this Bronco, yuh can ride through th' F-key Prairies while whistling "Down th' Mountain" in 80 different variations. An' that ain't nothin'! If yuh plug it into yuhr computer via th' USB port, yuh can use it as an audio interface, edit as many presets as yuh want an' share 'em on the web using th' Fuse software. Yuh get 'bout 10 effects, eight amp models, an integrated tuner, an' a free Ableton Lite version.
– Why, Sheriff you sure know a lot of things!
– Wal, kid, I jest read AudioFanzine when I ain't have nobody t' track down…
So, this small combo makes all these things for only $250. I'll have to track it down to see if it's true. Just give me a mule and my rifle, no French Cancan for me tonight…
For a Couple of Bucks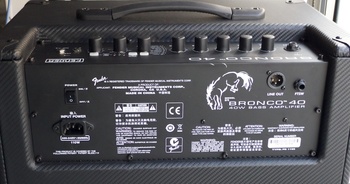 The first thing I really like about the amp is that its appearance doesn't make you feel overwhelmed by the amount of features. As I already mentioned before, the control panel is extremely simple: gain, three-band EQ, master volume, rotary selector, compression threshold, and FX level. You also get three backlit knobs: SAVE allows you to store a preset in a bank (including amp model, EQ, compression, effect algorithm, and FX level, but not the master volume setting); EXIT allows you to quit the tuner mode, while TAP gives you the possibility to set the delay or vibrato speed by tapping on the key. The control panel also features a dozen of LEDs but no LCD, which is very soothing for the eyes. Personally, I find that a digital display on a bass combo looks as awful and ridiculous as wearing a fringed vest. That's just me: I hate visual anachronisms! The Bronco has the right looks, like every other good bass combo should.
The control panel has three connectors (Instrument In, Aux In and Phones). On the rear panel you have a balanced line out and a footswitch connector (one single switch). And let's not forget the USB port on the control panel. To select your setup out of the 24-preset bank you have to use the PRESET selector. The eight tricolor LEDs (green, red, yellow) help you make your selection. To store a preset, press and hold down the SAVE button, select the memory location and press SAVE again (or push EXIT to cancel). The preset includes EQ, compression level and FX settings. Did you say effects? The Bronco 40 offers four modulation stages. The first stage includes chorus, flanger and phaser effects. The second one includes two envelope filters and an octaver, the third one two delays and a reverb, and the last one three different FX combinations.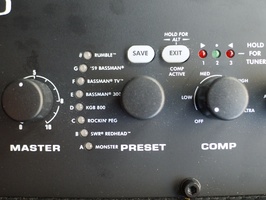 The integrated tuner could be easier to use. Last but not least, the Bronco 40 provides the user with eight different amp emulations: The Rumble (Fender combo), the '59 Bassman (a Fender vintage jewel), the Bassman TV Fifteen (another retro legend), the KGB800 (Gallien Krueger like), the famous SWR Redhead, the Rocking Peg (Ampeg), the Bassman 300 (also known as Sunn 300T), and a stack called Monster. Each emulation includes all the controls of the original amps. Since there are not a lot of controls on the front panel, you must connect the amp to a computer to access all settings using the Fuse software provided. And that's when the magic begins…
Computer Aided
Once you connect the amp to your PC, just start Fuse (downloadable from the manufacturer's website) and get ready to enjoy an awesome tool. The system's first advantage is that all software settings are audible in real time on the amp. As if that weren't enough, Fuse multiplies the features of the Bronco 40 while being very easy to use. In order to make things easier to understand, I have made a short video (it will spare me a lot of pages of explanations). By the way, you'll notice that I'm much better at writing than talking. Here is a summary of the Fuse features for those who prefer reading:
Preset editing, access to the different libraries
Access to the Fuse web community
Control panel simulation for each amp model
Comprehensive controls for each amp
Effect rack and stompbox models with dedicated controls
Export/upload and download/import of personal presets
Now, let's talk about the tone of the Bronco 40. The sound of the speaker was captured by a Beyerdynamic M88. We only used factory presets for the sound samples. The instrument we played has a dual Jazz-Bass pickup. The settings on the instrument were flat.
– The first three samples show how the Bronco EQ works.
– Afterwards, you'll hear the amp simulations of the amp with factory settings:
Rumble

00:25

Bassman 59

00:18

Bassman TV

00:19

SWR RedHead

00:13

Rockin Peg Mute

00:26

KGB

00:19
– And finally, here are some of the integrated effects:
Chorus

00:25

Flanger

00:22

Phaser

00:22

Filtre 1

00:10

Octaver

00:06

Delai

00:12

Effet Reverb

00:22

Mix Octaver/OD/Reverb

00:21

Mix envelope/reverb

00:21

Mix Reverb/Chorus

00:20

Mix octaver/fuzz

00:22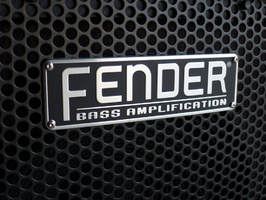 Here's how the Bronco 40 sounds right out of the box. Considering that the device is fully editable, I'd recommend you to fine tune the settings. I had to book a studio to record these examples so I didn't have the opportunity to try out all of the features Fuse has to offer. In fact, I played only factory presets. But I can assure you that it was a different story at home: I spent several hours with Fuse on my Mac and I achieved quite impressive results for a small combo. The 10" speaker does a good job (I deliberately played the B-string pretty hard to check if the speaker could withstand such frequencies). I'm not utterly convinced by the output power: 40 watts are not enough to play with a drummer but they are a bit too much to play at home.
The design of the control panel requires you to familiarize yourself with the LEDs and the color codes. But once you master that, using the controls is a breeze and you'll really appreciate the sleek design and the reduced number of controls. The tone character of the amp is not revolutionary. In fact it is rather classic and traditional. The DSP adds no digital color to the sound except when it comes to the effects: they have a clear digital sound signature but can be helpful in some applications. All amp models sound good, although they are not truly faithful to the original and clearly color the sound.
And for a few bucks less…
Like the Mustang, its counterpart for guitar players, the Bronco 40 is an appealing alternative to many products currently available on the market for about $250. The amp doesn't have enough output power for rehearsals with a drummer, but it can be the perfect practice amp. We can also imagine ourselves in a home studio recording some bass grooves with it and taking the best out of its wide sound range. Add to that the unique, easy-to-use and intuitive software tool Fuse, the possibility to use the amp as an audio interface, the good manufacturing quality, and the value for money, and you end up with a very attractive combo for people looking for a higher-class practice bass amp.