After the Highway One, updated in 2006, Fender comes back again with new affordable products from its American production center: the revisited versions of the Precision Bass and the Jazz Bass.
Sold for under $1,000, the manufacturer adds two classic passive instruments to its product portfolio and makes them available in four different finishes: three-color sunburst or white for instruments with rosewood fingerboard, black or red for full maple bass guitars. So altogether you get eight new bass models. I tried out two of them for you (and also a bit for myself): a rosewood Precision Bass and a maple Jazz Bass.
From Accounting to Legend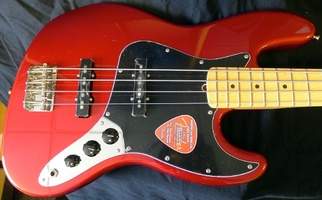 At the beginning of the 1920's, George FROST decided to revolutionize the automobile industry: he integrated the first "car audio" ever to the front-passenger door of a Ford T. This clever idea, coming from an 18-year old amateur, rapidly became a social trend. During the few years between his invention and its introduction in the market by the Galvin Manufacturing Company in 1930, many private people modified home radios, like the Marconi V2a to match their respective cars. I can't withstand the pleasure of telling you a small anecdote: this first commercial car audio was called Motorola, a combination of "Motor" (for motorcar) and "Olla" (for sound). Today, this name belongs to an electronics and communication's giant. Coming back to our story: between 1922 and 1930, some car repair shop owners offered their clients the option to tweak their cars with custom modifications. That was the case of Leo Fender's uncle who owned such a shop in California. Actually, he is responsible for turning his 13-year old nephew into a technology freak by sending him some spare parts and a car battery. One year later, Leo visited his uncle's workshop where he saw a radio receiver assembled by his uncle.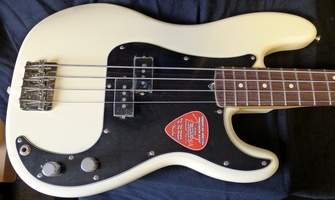 The device was a fascinating revelation for the young Leo. As a teenager, he started to service radio receivers in a workshop he opened at his parents' home between Anaheim and Fullerton. However, Leo Fender would never study electronics, neither at college nor at university level. In fact, the future inventor studied accounting in 1928. After getting his university degree, Leo changed jobs several times during the great depression in the 1930's. In the meantime, Leo got married and started to manufacture his first audio devices on demand: six P.A. systems for ballrooms in the neighborhood. He did this as a side job. In 1938, tired of always losing his job due to workforce reductions, Leo definitely gave up accounting. In spite of the recession, which would only end with the beginning of the WWII, he borrowed $600 that he invested in his first company: a repair shop named the Fender Radio Service…
End of the first chapter in the Fender Trust story. I will keep to myself the following chapters so that they can spice up future reviews about other Fender products. Back to the future, let's introduce now the American Special Series.
Sisters But Not Twins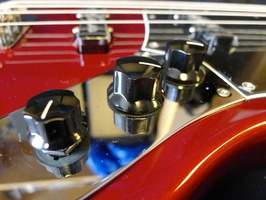 This year is the 60th anniversary of the Precision Bass and the 51th anniversary of its smaller sister. Both are available in many different versions. I counted 33 Jazz Bass models and about 20 Precision Bass variations, all manufactured in Japan, Mexico or the USA — and I didn't take the Squier instruments into account. As the name implies, both "American Specials" are made in the US, and they are quite affordable. We believe that they will replace the Highway One series, available only in a three-color sunburst finish nowadays, which makes us think that the range will be discontinued.
First question: what's new in the specs and under your fingers? First of all: the finish. The Highway One series has a satin finish using a cellulosic varnish while the American Special series offers a glossy polyurethane varnish. Is this change for better or for worse? It's all a matter of comfort and taste. With a cellulosic varnish, the wood can still breathe and thus ages better. Its density changes over time. producing the distinctive cracks of varnished surfaces. This varnish was used a lot until the 70's — it's the typical finish of vintage guitars. But this finish has some cons as well, like its fragility and the complex process required to apply it to an instrument. For instance, you have to be careful with the guitar stand you use because certain materials can damage the varnish. Since the 70's, acrylic or polyurethane varnishes have been more widely used (accounting to about 85% of the worldwide production). Such finishes are easier to apply and withstand better the contact with other materials. But it is also well-known that they isolate the wood and thus reduce the instrument's natural resonance. That's an undisputed fact when it comes to acoustic instruments where resonance is controlled by the soundboard, however, with an electric bass guitar, the effect is less obvious. I personally think that the varnish plays a small role in the overall sound and is not a real topic. But It's true, and I know because I've experienced it first hand, that the wood doesn't age the same way with a non-cellulosic varnish.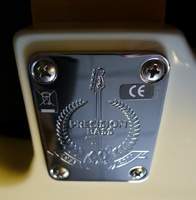 As for my personal taste, I like better the feel of cellulosic finishes but I didn't really like the satin finish on the Highway One series. I prefer the glossy finish of the American Special series because it seems less cheap and has the right thickness (neither too thick nor too thin). The second change is for worse: the Badass IV bridge (that we'll never praise enough) has been replaced by a simple "Vintage" bridge. It's a pity that a new feature offers less than an old one. It would have been better to replace the Badass by a bridge with through-body strings like the American Standard series has. But it's true that I'm sometimes a demanding editor… Let's go on with the differences: the American Special series offers an optional maple fretboard, which wasn't the case with the Highway One series. This is a real advantage for musicians who want stronger attacks.
Otherwise, the features are the same. You get 9.5" necks with 20 frets. The nut of the Jazz Bass is fully standard (38.1 mm), and the same applies to the Precision (41.3 mm). The pickups still use alnico magnets, while the electronics are based on the Greasebucket system: two capacitors and a resistor allow the musician to cut high frequencies without reinforcing the lows. At least that's what Fender says… we will try out the system later.
Spin the Round Knobs
For this review, both bass guitars were recorded directly into the audio interface. Each sound sample includes two versions: one via a DI box and the other one going through a TC Electronic RebelHead 450 amplifier and the Two Notes Torpedo VB-101. To keep it simple, I played four very short and simple lines so that you can easily compare the Precision with the Jazz Bass.
First of all, an overview of the sound colors of the different pickups of the Jazz Bass and the single pickup of the Precision.
RebelHead450 – Doigt – Deux micros

00:12

DI – Doigt – Deux micros

00:12

RebelHead450 – Doigt – Micro Manche

00:26

DI – Doigt – Micro Manche

00:26

RebelHead450 – Doigt – Micro Chevalet

00:26

DI – Doigt – Micro Chevalet

00:26

RebelHead450 – Tone=0

00:26

DI – Tone=0

00:26

RebelHead450 – Tone=5

00:13

DI – Tone=5

00:13

RebelHead450 – Tone=5 ex2

00:11

DI – Tone=5 ex2

00:11

RebelHead450 – Tone=10

00:13

DI – Tone=10

00:13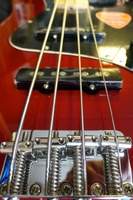 To be honest, I'm not a fan of the so-called "GreaseBucket" personality. I cannot say that it doesn't make any difference with a standard system: to prove that I would have to remove the components and listen to the sound of the pickups and the instrument with only one capacitor on the tone pot. But I didn't feel like modifying an instruments that doesn't belong to me, so I give you my own personal opinion, which is not necessary objective: the GreaseBucket feels and sounds like every other tone control. When I listened to the recording of the Precision with flat tone controls, I could easily recognize the weak low-end and the slightly dull and cavernous sound. Which isn't necessarily a bad thing.
But it raises the question of whether the GreaseBucket is really conceived for bass players (like you and me)? This innovation seems to be conceived mainly for guitar players who care about keeping enough definition in the high-frequency range. As for me, I have nothing against sounds that go very low: having the possibility of reinforcing low frequencies to make the sound dull is an advantage you can use, or not, depending on the position of the control. In other words, I'm afraid I haven't really understood the benefits of this technology, which is also present in the Highway One Stratocasters and Telecasters. I find it doesn't really meet the needs of a bassist — this is only my opinion, not the opinion of all bass players.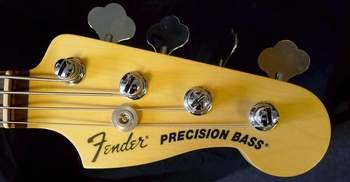 When finger picking, the Jazz Bass sounds a bit hard, which is normal since I received an instrument with maple fingerboard. I would prefer a Rosewood Jazz Bass and a maple Precision. However, different alternatives open your mind. The younger sister with its traditional single-coil pickups produces a rather aggressive sound. The sound is ideal for powerful or even aggressive music, in other words, this "Jazz" Bass is your best buddy for rock music. Like me, if you plan to use your Jazz Bass for more standard applications, choose a model with rosewood fingerboard. The Precision Bass brings no surprises with itself. It sounds exactly how you expect it to. Although its straight and effective tone doesn't fit every music genre it does a good job in many situations.
For slap playing, the Jazz Bass gives better results thanks to the fretboard. However, the Precision keeps a certain percussive attractiveness, it produces a thumb sound that recalls the great Jerry Scheff in the 1970's.
RebelHead450 – Slap – Deux micros

00:23

DI – Slap – Deux micros

00:23

RebelHead450 – Slap

00:20

DI – Slap

00:20
With a pick, I prefer the Precision for its wide sound. However, the Jazz Bass can be appealing if you want a more aggressive tone.
RebelHead450 – Mediator – Deux micros

00:16

DI – Mediator – Deux micros

00:16

RebelHead450 – Mediator

00:25

DI – Mediator

00:25
Since both American Special bass guitars offer the same quality, the choice between both models will only be a matter of taste.
Conclusion
In the end, there's not much to say about these affordable American sisters. They don't offer less than their predecessors (except for the bridge) and you even get a real improvement in the finish for a small price increase. You can get one of them plus a nylon gig bag for $1,000. The price varies depending on the finish, and the sunburst is always more expensive to manufacture. However, if I were a bassist looking for a new affordable Jazz Bass among the models available in the Fender catalog, I'm not sure that I would choose this budget US product. There are some Mexican and Japanese options that are just as or even more appealing. So, if you absolutely want a US-manufactured instrument but have not enough money for a standard model, try out the American Special series, which is surely welcomed in the product range.
Otherwise, don't hesitate to check the full catalog. With such a rich choice, don't hesitate to try out all you can!