Today's review is dedicated to a master piece and a living legend — a totem in electric bass guitar history.
A Mini-Review: A Snap Shot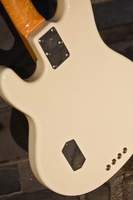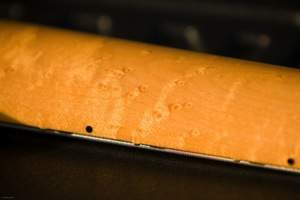 Some sound samples with diverse damper settings:
The EQ controls are ultra effective and two bands are more than enough to get different sounds. They are powerful, precise, effective, versatile, and easy to use. The sound character is a real delight for all fans of the classic Stingray sound, which is the manufacturer's main success. No unwanted noise nor hum nor hiss: isolation is just perfect and certainly better than in 1976.
4 aigus a 0

00:44

5 bandes aux deux tiers

00:19

6 cut aigus

00:32

7 mediator

00:34

8 slap 2

00:22

9 slap 1

00:17
As a summary, although I'm not a fan of the manufacturer (it's all a matter of taste!), the features of this series really got me. This bass almost converted me to the "Stingray mania" and I must admit that if anyone would ask me which current four-string bass guitar I would like as a present, I would easily choose this one! Well, for a gift, it certainly isn't cheap (around € 2590)! But I personally think it is worth it. Considering its quality, people who have the money can choose it without a second thought. The same applies to all of you who have been praising the Stingray ever since you discovered it. You can check it out at your usual dealer and be blown away. Trust me, I've been there!