In spite of all my years in the guitar world, I have to admit that I never had the opportunity to test an instrument made by Schecter. This company's story reads like an American fairy tale...
In 1976, David Schecter gave his name to his newly founded company: Schecter Guitar Research. In those early days, the company was a workshop that provided everything to build a guitar (body, neck, pickups, bridges, etc.); it was dedicated exclusively to spare parts.
At the time, the manufacturer supplied two of the most important electric instrument manufacturers (can you guess who theses giants were?) and only ventured in the instrument manufacturing industry in 1979. The workshop became a "custom shop" that produced high-class instruments inspired mainly by Fender concepts. Within four years, the manufacturer became very successful and was bought by Texas investors. The custom shop then moved and started production in series of instruments still largely inspired by Leo (you could say they were Fender copies).
The company came back to its roots in 1987, when it was bought by Hisatake Shibuya, owner of ESP. He moved all manufacturing back to California and transformed it into a custom shop distributing prestigious guitars.
In 1996 and thanks to its new manager, Michael Ciravolo, who wanted to stress the corporate identity of the company, the brand finally drops its obsession with Fender designs.
He also expanded production to Asia (in Incheon, a province of South Korea) where he subcontracted the production of an instrument series conceived for the masses.
In Incheon is also the main factory of a well-known manufacturer called CORT, whose makings can be found in the catalogs of numerous brands out there…
Now, let me introduce the instrument we want to test today: the SCHECTER ULTRA is a bass guitar with a hybrid and original look. It is made in Korea and equipped with standard passive electronics.
Don't Forget Your Roots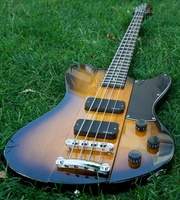 The design of this bass guitar is a mix of a Telecaster and a Gibson Thunderbird. The Thunderbird heritage is present in the headstock and the bottom part of the body, while the top of the body (the part close to the neck) reminds the famous Fender guitar.
The shape of the body lets you rest your right arm on it, which gives the instrument a very personal touch somewhere between rock, vintage and psychedelic.
The neck-through body includes three maple plies and two walnut plies. The neck is 34" long (22 frets), 38 mm width at the nut and 62 mm width at the last fret. The fingerboard is made out of a dark purplish rosewood (probably Indian rosewood).
Handling and playing comfort remind a Jazz Bass, except for the back of the neck that has a glossy varnish.
Our test instrument has a two-color sunburst finish from headstock to body. The headstock is inspired by the Thunderbird with a center part raised 2 mm above the rest. It looks nice and well manufactured!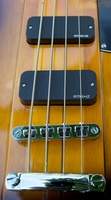 The three parts of the body are made out of mahogany and the two-piece bridge includes a tune-o-matic and a tailpiece. The nut is made by Black Tusk (synthetic ivory) and the sealed, lubricated tuners are Grover (and look a bit too cheap).
The electronics includes a pair of passive EMG HZ humbuckers, two volume and one tone control. Nothing prestigious, the American brand's HZ Pickup Series is made in Korea.
When it comes to finish, the instrument I hold in my hands is irreproachable.
The two-color paint and the varnish look very clean. There are no knots to be seen in the wood, the fret work is very clean and the body shape is perfect.
The overall weight is ok which is surprising considering the size of the body and that it is neck-through.
Come to Daddy…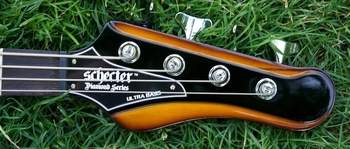 Don't just stare at it, touch this beauty! Nice-looking bass guitars are like nice-looking girls: it's pretty cool to look at them but it's much better to play with them!
Enough with the dirty jokes. I first played the instrument sitting. Everything went sweet! The whole neck felt pleasant under my left hand. It turns a bit difficult above the 19th fret where the body cutaway meets the neck, but it's not a major problem. The instrument is well balanced and the neck sits perfectly in the left hand.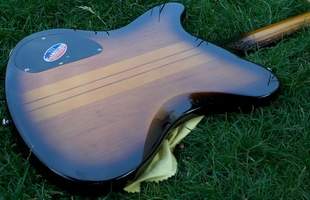 I had some difficulty to play over the bridge pickup because my right arm rests exactly over the non-slanted convex curve of the body. When sitting, the body pushes against the radial nerve, which can become unpleasant or even a handicap over time. But this last remark has a lot to do with my personal morphology and it certainly won't be a problem for everybody, since we all take different positions when playing.
I then tried to play this bass standing up and the problem disappeared. I even noticed a perfect balance when standing up: the bottom of this beauty is so round that the headstock gets even higher!
The weight is alright; I expected the instrument to be much heavier, but it isn't thanks to the mahogany! Going back to sitting position: after playing this bass in couch-potato position (I'm sorry, I always play siting and even half naked, when at home) over a long time, I got used to playing it a bit higher.
And when it comes to sound, this matches the personality of the instrument better. So let's talk about the sound.
Angel Face with a Lovely Voice
Although the electronics are nothing revolutionary (a good, old passive system) or sophisticated (a pair of identical humbuckers), the overall response is very interesting.
It just sounds good; however, it does need more of a good right hand and basic settings than a complex preamp and EQ system.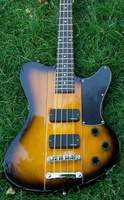 The EMG pickups have a linear response. Thanks to their humbucker technology (with ceramic and steel magnets), they don't present the typical single-coil problems like hum and inducted noise. They still have a fine response and don't sound like standard humbuckers.
The neck pickup sounds very round, fat and full even when the tone control is fully open.
The low end of this pickup always stays full, accurate, dynamic, and punchy so that the response never becomes dull and dark. The bridge pickup matches the neck transducer perfectly, producing strong and wide mids ranging from low-mids to high-mids depending on the song you play.
However, the brightness is very poor!
This was to be expected, given the humbuckers… but let's not make a fuzz about it! Considering that this ULTRA is not conceived for crazy slap players, just play a bit less slap and have more fun with other techniques.
Nevertheless, is does sound more percussive than a 4001 when slapping! OK, it doesn't come close to a '75 Jazz Bass but it still does the job. Damped thumb playing sounds wonderful: all early 60's music fans will love it.
The response is very versatile and it won't limit the ULTRA to rock music as you would expect from its look.
To me, this Schecter is made for numerous applications ranging from pop to rock, from Caribbean to Latin music, from blues to country. I personally like playing Motown stuff and I find its sound has something that recalls the 70's. The ULTRA made me feel nostalgic, which is very positive because it led me to play almost every music style, even things I had never tried before. You could say that the ULTRA is inspiring me so I guess that counts as a huge (subjective) advantage!
Here you can listen to sound samples recorded with our TC Electronic RebelHead 450 and Two Notes Torpedo VB-101.
Price
Let's end this review taking a look at the price tag: about $1,400. It's a bit painful, for a bass guitar made in South Korea!
But there are also top Korean instruments by similar brands: Fender, Lakland, Tom Laulhardt, TUNE… The question is: is the Schecter Ultra worth its price?
Good finish, nice sound, neck-through body, original look (although inspired by two other brands), and a perfectly adjusted instrument. So far, so good! But for about $1,400, we expected more from a standard instrument made in a country where manpower is inexpensive: better pickups than these EMG licensed models, better machine heads or at least a flight case or a gig bag…
Instead of the wonderful cardboard box this not-so-cheap Schecter comes in! Yes, that's not a joke and it makes the price seems even higher. This is my personal opinion and not a negative judgment. I am confident this bass will be of interest to lots of musicians all over the world, regardless of its price.