It was THE event at the 2010 AES show in San Fran: the launch of Pro Tools 9 took center stage and generated a lot of expectations. Pro Tools 9 is not merely a simple update. It is in fact a small revolution for Avid, given that the famous DAW is now open to the external world — for the first time ever.
Over the last couple of months there were rumors everywhere about the possibility of, one day, being able to use the well-known digital audio platform independently from the dedicated Avid hardware interfaces… All of you who have been patiently waiting for that moment can rejoice: now Avid Pro Tools doesn't need Avid hardware to work, and still deliver a high performance. Or at least that's the assertion by the American manufacturer — the leader in the digital pro audio and video markets.
Surely the most skeptical will think that it will only be possible with a "light" version of the software or something. Wrong! We mean THE Pro Tools 9 — an almost "unique" version that works with all sorts of digital audio interfaces. However, when searching for more information on Avid's website things get a bit more complicated, considering that there are several possible configurations at very different prices!
In order to make things clear, we will start by giving you an overview of the main software and hardware configurations and then introduce the new features offered by Pro Tools 9.
Set Menu or à la carte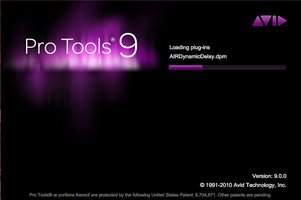 Until now, the options to use Pro Tools were quite simple because they were limited: you could choose between an expensive Pro Tools HD system (including at least one DSP Core card upgradeable with Access cards) or the more affordable Pro Tools LE system with limited functionality (the price depended on the interface you chose)… Today, the configurations are quite different, although there is still some hierarchy when it comes to features (and price).
The first version is still the flagship in Avid's DAW range: Pro Tools HD 9. Like its predecessor, this update of Pro Tools HD 8 works only with HD Core and Accel PCIe cards (including nine DSPs each) and is sold bundled as before: HD1 system (with one Core card), HD2 system (with one Core card and one Accel card) and HD3 system (with one Core card and two Accel cards). There is no surprise up to now.
The real change comes with the second version called Pro Tools HD Native, which is a piece of software that provides exactly the same features as the "HD" version but without a DSP card. Instead, Pro Tools HD Native is sold with a PCIe card with two Mini-Digilink ports that allow the user to connect any HD interface to it, like the new Avid HD I/O interfaces: 16×16 Analog, 16×16 Digital, HD MADI, and the new HD Omni! In other words, this Pro Tools version is the first "HD version" that can work without a dedicated DSP card… In fact, the compatibility between Pro Tools HD Native and the UAD-2 card system has just been officially announced… Does it start to make sense to you now?
Last but not least, the product range includes another version, simply called Pro Tools 9, which is very similar to the HD version and works on both Mac and PC platforms, regardless of your ASIO or Core Audio digital audio interface. This new hardware-independent version has the clear goal of competing with other native sequencers. Let see if it can succeed!
More Tracks, More Possibilities
Like we just explained above, there are still several Pro Tools 9 systems, but there is only one installer for all versions. It has been available for download as well as in a box on Avid's website (and all Avid dealers) since November 4, 2010. You can choose the hardware you like best for AD/DA conversion and recording. In order to be able to install Pro Tools 9, you'll need Snow Leopard (10.6.2 or later) on your Mac or Windows 7 on your PC. Pro Tools 9 system requirements are still the same as for version 8.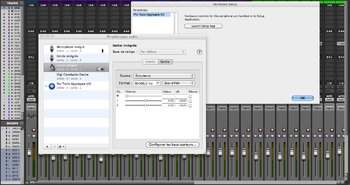 Although Pro Tools 9 can work with any audio interface on Mac and PC, you'll also need an iLok account and key (included with the boxed version of Pro Tools 9) to authorize the program, which was not the case with Pro Tools LE. On a Macbook Pro, installing Pro Tools 9 takes about 20 minutes. Afterwards, you can start playing with the new features once you have selected the in/out audio interface to be used (the internal audio interface on our Macbook Pro, for example).
It's important to mention that the new Pro Tools 9 currently supports MP, ASIO and Core Audio hardware, as well as Avid's LE interfaces (MBox models). Once you open Pro Tools, you'll have to select the in/out audio hardware you want to use. It was quite simple in my case!
In the past, it was possible to use Pro Tools LE with a very basic configuration, for example with the MBox micro, a small USB key that allowed us to use Pro Tools in any situation. So the main differences between the former versions and this new update are not the compatibility with the external world nor the simplicity in the configuration.
On the software side, Pro Tools 9 (not HD) has taken the place of Pro Tools LE. From a performance point of view, it's now possible to work with sessions including up to 96 mono/stereo tracks at 48kHz (48 tracks at 96kHz and 24 tracks at 192kHz), 256 internal busses, 128 aux busses, 64 virtual instrument tracks, and to record 32 tracks simultaneously. Avid finally decided to listen to LE users who didn't want a Pro Tools "light" version with limited functionality anymore… And they also tackle their competitors.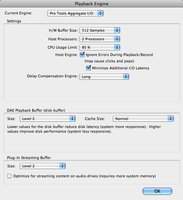 Another important new feature is the integration of options you previously had to pay for: MP3 encoding, Digitranslator (allows OMF/AAF/XMF export, TimeCode management, etc.), "full" Import Session Data, multitrack Beat Detective, etc. are now included in the update. To keep it short, it is as if Pro Tools 9 would include the DV and Music Production toolkits. While being a good thing in itself, these new features just make up for all the lost time (we won't go crazy about a "free" MP3 encoder in 2011!)… – ADC ("Automatic Delay Compensation": management/compensation of plugins' latency, internal busses, etc.), which was only available in HD systems until now. This feature brings Pro Tools 9 to the same level as its competitors when it comes to mixing, even though bouncing is still only available in real time (unlike most of the sequencers on the market): if you have a 15-minute song, which isn't rare if you work on audiovisual projects, for example, you'll need 15 minutes to bounce! It's absurd, and even more considering that almost any sequencer allows you to make this offline to save valuable time…
However, there are still differences between this "basic" version and the other ones (PTHD and PTHD Native): To get all software features of an HD system (native or not), you'll have to buy the Complete Production Toolkit 2. If you take this option, you will be able to create projects with up to 192 tracks and you'll get the surround mixer, the VCAs and the advanced mixing/editing functions… For most Pro Tools 9 users, these features won't be essential, but they will become indispensable for all of you who have advanced working methods. You can an overview of the differences between all Pro Tools 9 versions, as well as a comparison with version 8, here: http://www.Avid.com/US/products/family/Pro-Tools/compare
Although we appreciate Avid's will to open Pro Tools 9, we regret the lack of consistency in terms of price philosophy. Due to its high price, the Complete Production Toolkit 2 will be accessible only to professionals with a more-than-average budget.
Alter-Native and HD
As we already mentioned, a new hardware and software system was introduced with Pro Tools 9: Pro Tools Native. Providing exactly the same software features as the HD system, Pro Tools HD Native includes a PCIe card with two Mini-Digilink ports and a serial connection for a SYNC HD I/O. The main advantage of this system is the possibility to use third-party DSP cards for processing, like the UAD-2 cards. Thus, the user benefits from the best of both brands! So, why use an HD system now you ask? Since it has no DSP card, TDM plug-ins (whose quality has been proven over the years) don't work on HD Native systems. Moreover, the HD system provides the HEAT option, a plug-in developed with Dave Hill/Crane Song that recreates the behavior of tape recorders and tube technology. But even more important, since it uses the DSP power of its cards, the HD system is the only Avid system which is independent of the computer and thus always provides the same performance, regardless of the workstation you are using.
We want to point out something else: although Pro Tools 9 is now open to third-party interfaces, Avid worked a lot on the performance with its own hardware to ensure minimum latency times, which are not guaranteed with other hardware. With the MBox product family and the HD I/O interfaces, the latency time, especially for recording, is always much shorter than with third-party hardware. On an HD Native system with HD I/O interface, Avid guarantees a latency of 1.66 ms at 96kHz with a 64-sample buffer. Thanks to the Low Latency Mode (Output tab in the I/O setup), the latency can drop to less than one millisecond.
However, the HD system still remains the most powerful with only 0.44 ms latency at 96kHz (with the same interfaces). For mixing applications, the performance differences between HD and HD Native systems are insignificant. But the HD system is still unbeatable for recording applications: plug-in management, hardware inserts, monitoring bus, and processing are very easy to handle and you have no latency… The HD Native system doesn't manage these features with the same efficiency.
Last but not least, the mixer of the HD system uses 48-bit fix while the mixer of Pro Tools HD Native and Pro Tools 9 uses 32-bit floating technology… As an HD system user, I find this new software philosophy extremely flexible: when you buy the HD update, you get Pro Tools 9 HD plus Pro Tools 9. This means you can record with a system and edit the tracks later on your notebook, at home, on the tour bus, next to the swimming pool… You just need an iLok to get always the same features! It's a major plus…
What's New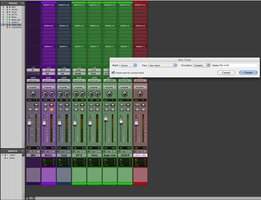 From a software standpoint, this update brings only a few, but interesting, features. I chose two new functions that have, in my opinion, a real impact on the workflow with Pro Tools. The first one applies to the I/O setup. In the past, when changing studios during a project, it was quite difficult to manage I/O setup changes within a session, especially when there was automation data for volume, pan, etc. Let's just say it was possible, but unpractical, at a time where fast workflow is as important as work quality.
With the "opening to the external world" of third-party audio interfaces, the developer team had to improve the management of hardware ins/outs. Avid solved the problem by creating a new way to manage the outputs. From now on, before routing them to the hardware outputs, the software outs in the I/O setup must be assigned to "output bus"… In other words, it is now much easier to route the outs according to your new hardware, without having to change the previous I/O setup settings, and without changing all relevant parameters (automation data, etc.).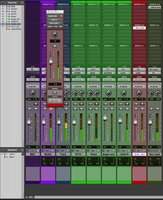 The second new feature applies to the routing of the aux tracks and the busses. Avid once again listened to its users and simplified the creation of new aux tracks and their assignation. Do you need a reverb on vocals? Click on the send of the corresponding track to access the possibility to assign the send to an already existing bus or track or to a new track you're about to create! It's only a detail, but it makes the workflow much more simple and faster!
Finally, Pro Tools 9 includes by default the EuCon protocol, which allows you to manage the communication with Euphonix products. This was to be expected, considering that Avid bought the famous mixer and control surface manufacturer last spring. Euphonix users will be happy to discover how easy it has become to control Pro Tools 9 from their Euphonix hardware. Just click on a checkbox under the Peripherals tab in the Preferences menu and that's it! You'll only need to have previously installed the latest Eucon software version to avoid Pro Tools 9 from closing automatically…!
And That's It?
Yes, that's it. Although it's a good thing to see professional products become more affordable, it's disappointing that version 9 didn't follow version 8 regarding software and functional improvements. In spite of its professional character, Pro Tools still has no pitch editor to manage formants, no convolution reverb, no Transient Designer, no FFT filter, and many other things you can find in almost all competitor products. The software has no signal view tools (no interactive spectrogram) and doesn't allow the user to customize the user interface. This last fact can actually be an advantage: you can always find everything in every Pro Tools system… So, to sum it up, Pro Tools still has some "gaps" that will disappoint some users.
Now that third-party software and hardware allow comparisons, we must admit that the leader in the pro audio industry is still very perfectible… And even though you can make up for most of its flaws buying third-party plug-ins, you will have to go with RTAS/AudioSuite/TDM formats (depending on your version) because Audio Unit and VST standards are still not supported. Indeed, FXpansion offers a wrapper to convert VST plug-ins into RTAS, but you'll have to pay for it… Spending on such tools might not be a problem for professionals, but it can be a real problem for people on limited budgets, especially considering that the offer of freeware and affordable software tools as RTAS is very poor…
Due to this fact, the suitability of Pro Tools 9 depends on the type of user. For professionals who want to use it in the studio and on the road (like me), this version is a major update that offers much more flexibility than Pro Tools 8 LE with more tracks and more features at the entry level… At a time when we have interfaces like the MOTU UltraLite and RME BabyFace, users will be more than happy to have the possibility to replace their small MBox with a bit more ambitious gear (although the new MBox might catch their eye).
If the support of non-Avid hardware is not interesting for you, you'll have to ask yourself if Pro Tools 9 is really worth an update. The improvements are not many: besides ins/outs management and aux & bus track routing, this new version is still very similar to Pro Tools 8.
Lastly, there are those new home studio owners with a budget of somewhere around $600 for a sequencer. Pro Tools could be a good choice for them, considering that it is the best software to communicate with the pro audio world. But we must admit that the competition is pretty hard in this segment and the Avid software still has several gaps: lack of features (no offline bounce, no freeze, etc.), small plug-in suite (although it has improved since version 8). We expect more from a leader…
Pro Tools Will Always Stay Pro Tools
It's true that the Pro Tools concept doesn't change with this new update. We will probably have to wait some more time before certain features appear in the Avid software. Despite all, the manufacturer wants to listen to what its users have to say through IdeaScale.
And let's make something clear: the fact that Pro Tools is used by the vast majority of professionals is not only due to the brand's effective marketing. Apart from the proven quality of the ready-to-use hardware/software solutions in the HD range, Pro Tools has always had a great response due to the design of the software itself. Although it lacks some features, the software allows for an easy and fast recording, editing and mixing of audio, in comparison to other tools that make things much more complex because of their sophistication (for example, until version 4, the side chain was incredibly complex in Cubase and Nuendo compared to Pro Tools…).
For primary tasks, Avid's sequencer is not disappointing at all and allows the user to work well and fast. That's the main reason why it remains the first choice of many professionals and why it can be very appealing to beginners who can easily get scared by the endless menus, tabs and options in some competitor products… If all sequencers offered a demo version, these differences would be obvious, making the user's decision much more easier.
Conclusion
By ensuring the compatibility of its flagship product with the external world, Avid took a huge step forward, which will certainly delight many professionals and semi-professionals: from now on, you can take the software anywhere, and even if it's not an HD version it allows you to do some serious work.
After the major update that version 8 represented, we expected more new features and plug-in improvements. And we are still in shock by the price of the Complete Production ToolKit, which addresses professionals mainly. Although the "big" Pro Tools is now affordable to all budgets, it is not the best tool for everyone. And now that it can be really compared with other sequencers it could suffer from the aggressiveness of its competitors. But, since Avid is not a company that rests on its laurels, we are looking forward to seeing how this market will evolve…