Hot news
DSM Noisemaker OmniCabSim
Chile's DSM Noisemaker have released the OmniCabSim, a stompbox aimed at simulating the typical filtering effect produced by guitar and bass cabinets.
According to its creator, the philosophy behind the design of the OmniCabSim tweakable Cabinet Simulator is to allow the user to create their own cabinet response settings - not to reproduce exactly such or such well-known model, which is something many (often IR-based) other products on the market already do. This approach lets musicians define their own sounds with the guarantee of an easy and accurate reproduction of it when recording and playing live gigs, without depending on mic placement, amplifier or cabinet availability.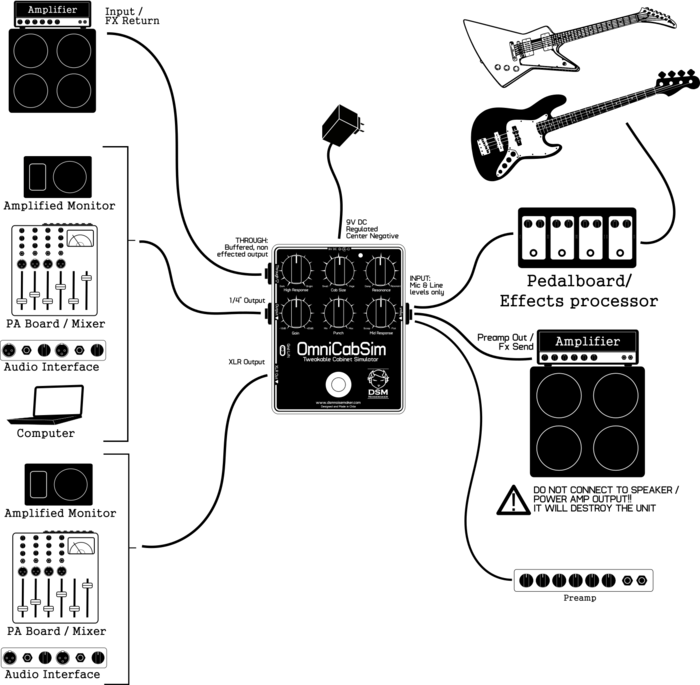 Features include:
Mic and Line output (level can be compensated using the gain control).
Tunable high frequency response to emulate the steep low pass filter that different speakers produce.
Tunable Low frequency response to control the low-end roll-off typical of speaker of various sizes.
Tunable low frequency resonance, allowing to dial the resonance of the low-end roll-off point, reproducing the effect of closed or open back cabinets and anything in between.
Mid control for "modern" or "vintage" responses.
Punch control boosts the 800 Hz band, aimed at letting the sound cut through the mix with warmth.
 DSM Noisemaker's OmniCabSim is available for $184 + the (non-negligible) shipping costs from Chile ($10 to Chile, $60 to the US and Canada, $80 to Europe, costs to other destinations not specified).
More details are available directly from DSM Noisemaker's website.
Viewers of this article also read...