Voxengo has updated its PHA-979 plugin to version 2.5, including several new features.
Voxengo PHA-979 is a track phase and time alignment audio plugin, available in AudioUnit, VST and VST3 plug-in formats (including native 64-bit support), for Mac OS X (v10.6 and later) and Windows computers.
PHA-979 version 2.5 includes the following changes:
Implemented color scheme editor with load and save functions.
Added "Brown" and "White" color schemes.
Redesigned the infrastructure controls.
Added 90%, 110% and 150% visual scales.
According to Voxengo, PHA-979 is useful during mixing sessions, especially when working with the sound material recorded through an array of microphones. In many cases, this should allow to solve various phasing problems arising from the microphone placement chosen during the tracking session. In other cases this process may help to align drums and other instruments to each other bringing punch and time coherence not attainable by the ordinary time-aligning alone.
PHA-979 features include:
Arbitrary signal phase control
Linear-phase design
Multi-band correlation meter
Positive/negative time delaying
Delay time calculator
Mid/side channel balance control
Stereo output panning
Stereo and mono processing
64-bit floating point processing
Preset manager
Undo/redo history
A/B comparisons
Contextual hint messages
PHA-979 end-user license is available for purchase on-line for US$59.95.
Demo version and more details available at the Voxengo web site: http://www.voxengo.com/product/pha979/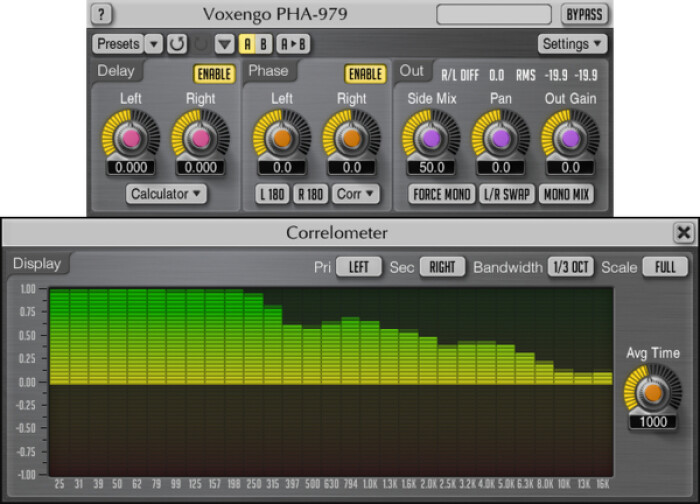 Be the first to post a comment about this news item
Viewers of this article also read...