We are living in strange times where innovation efforts are aimed at recreating "vintage sounds" instead of creating new sounds. On the other hand, after reign of digital technology in the 80's and 90's, the return of analog feel is a good thing.
The Return of the Tape Deck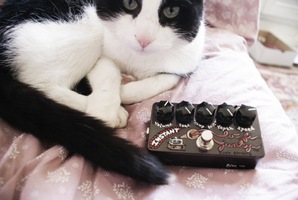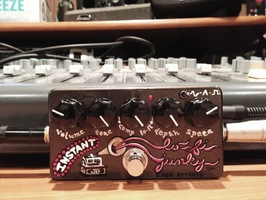 Let's be clear: this stompbox doesn't act at all like a bit crusher, despite its name suggesting otherwise. It simulates (and not only) the imperfections of tape decks (old cassette decks or 8-track recorders) that cause slight tremolo or even chorus effects. Moreover, extreme settings allow you to get surprising results like this extraterrestrial rhythmic effect:
(every example includes the bypassed signal first and then the signal with effect).
When you increase the modulation speed and decrease the compression slightly, the sound becomes really psychedelic, especially in combination with a fuzz pedal. This sound actually recalls the spatial feel of the EHX Small Clone stompboxes:
If you decide to use only the compression effect, you get a very punchy sound with a pleasant cheap touch if you like pumping effects à la Joemeek. With distortion… To be honest, I have never understood the need to compress an overdriven sound; but, it works fine too!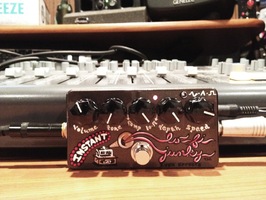 Now, let's check the Tone parameter. Low settings create a real strange muffled sound:
It was also very amusing to edit the modulation speed while playing. Here is an example where you can hear first the modulation speed range and then how it can be used while playing (it would be nice to have a third hand for this sort of application, but is not necessary!).
Shall I take my walkman out of the closet?
There is no need, this stompbox was conceived for you to get nostalgic without overdoing it! Basically, the effects of the Instant Lo-Fi Junky are surprising, convincing, pleasant and creative, even if some "seasick"-like vibrato settings should be avoided. If you are very demanding when it comes to compression, forget about it because there are no adjustable settings. However, I find that the default compression setting is very well balanced and it reminds me of the sound color of old MXR compression pedals. You can't expect this product to revolutionize your playing. However, it will provide you with real custom, creative features you'll find nowhere else. These features allow you to create special feelings of submersion with your instrument. All the more considering that the price is pretty reasonable for a boutique stompbox — a market segment where originality is often expensive! So, give it a try and support young independent effect designers, because these people are the ones who will create the classics of the future…